Kenya's I&M Bank has made two bold moves in recent days: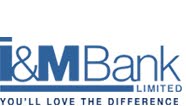 1. The second was the purchase of a stake in a Tanznian Bank, after their venture last year into Mauritius. It will probably be similar to the bank buy by NIC in Tanzania that they (NIC) revealed to their shareholders. But expert analyst @coldtusker points out that it has taken six years for I&M's foray to bear fruit in Tanzania.
Also, Ratio Magazine just published a timely Tanzania Country Brief which has this comment on the banking sector;
…Tanzania is already home to 25 banks – none of which have managed to bring down the country's high interest rates (many banks charge up to 25%). There is much opportunity to court new customers, as only 10% of Tanzania's 40 million people have access to formal banking services. But scarce human resources that have plagued other foreign entrants will also be a challenge…

From ABN Digital: On 27/01/10 CNBC Africa's Alishia Seckam spoke to Suprio Sengupta from I & M Bank
2. The first was the was the partnership with partnership with VISA that may place I&M at the forefront of the e-commerce banking in Kenya, which though it still has a small debit and credit card base, these consumers now have the access and a platform to make online payments as well as for local merchants to sell their goods, and receive payments, online.