Africa Practice: A survey of business executives conducted by Africa Practice, a consulting firm, reveals some interesting perspectives for the coming year:
– 68% of the interviewees expect to expand their businesses significantly
– 100% expected FDI to increase in 2010 (mainly from china) (up from 69% in 2009)
– Leading business challenges are access to credit (30%) and availability of talent (35%)
– No change in US administration impact on Africa
– Increased intra-African business and moving away from a reliance on international exports was cited as key in Africa's private sector development
– The most significant development will be technology investments and reduced costs communions costs (56%)
– But, just 54% believe that economic benefits from the 2010 world cupwill be felt only in South Africa itself.
Economist: Also writing on the World Cup is the Economist which notes

the more pressing question is whether South Africa will benefit from the World Cup. New airports and roads will attract more foreign investment to provincial cities, …but the boost in tourism in poorer country areas will hardly offset the broken promises of investment by the crony-ridden African National Congress. And the newly built stadiums will be filled only occasionally by the national rugby team.
A worry for FIFA is that the tournament will not be African enough…There will not be many fans travelling from qualifying African countries. Many black South Africans will not be able to afford even the subsidised ticket prices for matches; gifts of tickets to nurses and teachers will be needed. So Africa's moment may be uncomfortably white.
The article is part of their annual the
The World In (2010)
,and this issue also has an article crowning neighboring Somalia as
the worst country on Earth
and which reads like it was conjured up for the
satire in the onion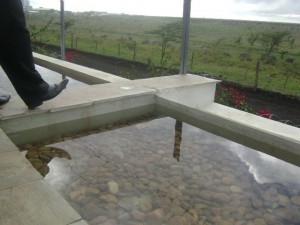 Standard Chartered
: Also an interesting read is this
future wealth report
from Stanchart.