1. Sustaining Pastoralists: Three years ago, in January 2006, there was a government plan to assist pastoralists by encouraging farmers with abundant pasture and water to buy animals from pastoralists and keep the alive during the prolonged dry season.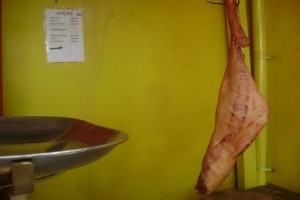 In September 2009, Kenyan TV screens have had, images of dying cattle being rushed to the slaughter houses where they will be bought by the government from ranchers at a cost of almost $105 each. But with cattle dying before they can be properly certified for consumption, the government of Kenya through the agriculture finance corporation; now decided to revive the program (details here); the livestock- off-take program targets private ranch owners with surplus land capacity to purchase animals from 22 drought-hit districts.
2. Compensating Investors Nyaga Stockbrokers eventually collapsed in September 2008, despite an earlier bailout that was intended to keep the stockbroker alive when news of its troubled reach the front pages of local newspapers.
The last time a stockbroker collapsed, investors had been compensated from the sale of stockbrokers seat which yielded about $3.5 million. But in 2009, the value of a seat is not considered to be much, hence the need to dip into the investor compensation fund – and late in September 2009, we got the final tally from the capital markets authority – spelling that it would (and teh CMA has paid out 90%) to 27,829 investors a total of Kshs. 302 million shillings ($4 million) from the investor compensation fund (said t have 426 million)
– Payments below 50,000 shillings will be made to a total of 25,135 investors
– Payments of above 50,000 will be made to a total of 2,744 investors
3. Reviving Uchumi In June 2007, Uchumi Supermarkets set out to tap investors for funds through a shareholders debenture loan that was not too successful.


They are now back in 2009, asking for the same funds this time, with much improved performance and the prospects of the company getting out of receivership and being re-listed at the Nairobi stock exchange much better.