excerpts from the 2009 Kenya Airways annual report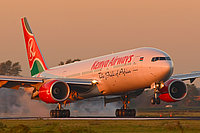 pic from airliners.net
Investor performance
: –
Annus horribilis
– airline industry performance has been bad with over 40 airlines suspended from the IATA settlement system in the last 15 months for non payments
– Turnover of Kshs. 71.829 billion (~$945 million), and operating profit of 4.04 billion, but the year ended with a pre-tax
shocking
loss of 5.66 billion ($74.5 million) owing for fuel hedging. In 2008 turnover was 60.47 billion and a pre-tax profit of 6.52 billion
Have 76,703 shareholders, 35 243 who have immobilized their accounts
– KQ has become more sensitive to fuel price changes and less sensitive to currency fluctuations – a 1% increase/decrease in fuel impact the profit by 269 million ($3.5 million). Report does not mention who fuel hedge partners, but hedges ran up to December 2010
– Their investment in Tanzania's Precision Air is good. Their 49% stake brought in 62 million in profit
– As a result of currency restrictions, KQ has 58 million ($763,000) in Seychelles that they could not repatriate, but the government there has allowed them to utilize it to procure services
– Have loans of 32 billion (with 23 billion or ~$303 million) owed to Barclays, also from ABN Amro and EXIM Bank USA – all at rates between 4.5% and 6.6%
Routes: – fly to 37 African cities, 5 Asian and 3 European destinations
– Revenue comes from Kenya (4%), Africa (46%), Middle East & Asia (22%), and Europe (29%)
– Stopped Lamu because they don't have a plane that can land there (after they sold turbo-prop)
– Paris is back on, but KQ scrapped Nairobi – Guangzhou direct because of poor traffic. Guangzhou now served through Bangkok
– Aim to offer more night flights to Nairobi for easier connections
– Have run some enticing promotions to celebrate new routes new routes – $43 to gabarone (Botswana) and $44 to Ndola (Zambia)
Embraces new media : – website has 230,000 visits per month and sales have passed $10 million (that's about 1% of a year sales)
– No. 7767 is an SMS alert number that passengers can use to get information of flight status, delays, cancellations etc.
– About 3% check in via web, and booking for hotel and cars is also at a good rate
– have installed wireless network for staff to serve passengers, for baggage crew, engineering teams to coordinate flights why not wi fi for passengers?
– no mention of twitter @kenyaairways
Passenger services: – Busiest passenger months are July -August (~270,000 passengers p.m.) while lowest are February (~200,000)
– On time flights have gone up as a result of a zero tolerance policy on delays
– Airline report again laments that the Jomo Kenyatta international airport (JKIA) – their hub- has not kept up with their rapid growth in passenger numbers – and transit facilities inadequate
– Report also again appeal to the Kenya government to grant transit visas to their west African passengers flying to the far east via Nairobi
– KQ bought 3 buses to ease passengers' convenience, long walks to flights and protect them from weather
– KQ still runs Bombay Ambulance that provided discounted tickets to airlift needy patients traveling for medial operations overseas (donated 20 tickets last year)
Employee relations: pre-strike – Has 4,240 employees
– KQ sold land in Embakasi to a developer who will put up 332 houses, in which preference will be given to KQ staff
– Have 340 pilots and 850 cabin crew. Plan to hire 68 pilots this year (48 direct, 20 ab initio) and another 23 over the next 5 years to replace retiring pilots
Fleet: – KQ owns Boeing 777-200, 737-300, 737-700 aircraft
– KQ leases Boeing 737-800s and 767s, as well as Embraer 170s (paid 4.9 billion in leases in the year)
– SAAB turbo-props were sold to a European buyer in May, so now have an all jet fleet now
– Paid deposits of 1.65 billion ($21.7 million) to Boeing for the yet to fly 787 whose deliveries they expect between 2013 and 2015
Green airline: – planted 450,000 tress in Ngong forest with other corporate partners, costing KQ $220,000
– will map their carbon foot-print in 2009, though they cite a report that global aviation contributes only 2% to carbon emissions
AGM – their annual general meeting is coming up at the end of the month
-shareholders will vote for a dividend despite the (non-cash fuel hedge) loss for the year, and as is the norm this year with Kenyan listed companies, also for electronic mailing of reports or their publication of account sin the newspapers to replace expensive mailings through the post office to each shareholder
– KQ director elections are usually interesting affairs shareholders will be asked to (i) re-elect Chairman Evans Mwaniki and Denis Afande who must be re-elected each year because they are over 70 years old. (ii) Also new to the board is group finance director Alex Mbugua, and (iii) there will be a new director since a government re-shuffle will bring new transportation permanent secretary Cyrus Njiru on board as the main government representative replacing adan ali. (iv) There is also a vacancy as KLM nominee Micah Cheserem resigned during the year when he was appointed chairman of Kenya's Capital Markets Authority.