With 829,000 shareholders Safaricom, Kenya's largest mobile phone company is taking the step of enhance investor relations by using m-pesa, its money transfer system, to pay out the annual dividend to shareholders.
At just 0.10 shillings per share, it will not amount to much, with several thousand shareholder receiving a divided of Kshs 22 (~$0.30) , and if shareholders get paid by bank cheque, the traditional method of paying dividend up to now, it will cost them more to do so (typically Kshs. 50-100), than the cheque is worth. Paying my m-pesa will reduce the cost to Safaricom and its investors – as it's a good bet that a vast majority of shareholders are also M-pesa users (there are over 5 million registered)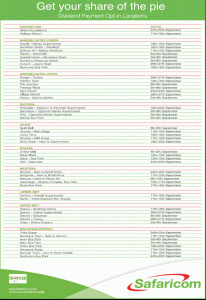 Last week the company published a list of locations where shareholders can register for the m-pesa dividend payment option through the month of September for payment in November 2009. All an investor needs is their identity card and proof of shareholding e.g. CDS statement (and photo copies of each). If it's successful, it will likely be taken up/imitated by other listed companies e.g. Kengen, Kenya Re through their registrars and other mobile companies like Zain (with Zap money transfer) and Yu (launching a money transfer next month) as another mobile partnership possibility.