Kenya Airways (KQ) is the cradle of blogging for me – one of their annual general meeting's (AGM) is the place it all started, the place where the inspiration for blogging, since then it's been a ritual to attend because I like planes and investments similarly. This year's AGM, held on September 25, was the first I've attended at Kasarani sports gymnasium; previous ones were at their Embakasi HQ, Carnivore and Bomas grounds.
What was remarkable or noteworthy?
shareholders aplenty KQ always draws in shareholders, maybe its because they are rather generous with gifts a.k.a SWAG (more on that later); but the meeting hall is full of the whole rainbow of Kenyan shareholders from business peoples, to student types (perhaps sent as proxies), but mainly older people who perhaps bought shares as far back as the IPO in 1997.
KQ courtesy shames Safaricom a few weeks ago Safaricom held a no-frills AGM that did away with many of the niceties that shareholders are used to. KQ, showed they this was no a costly affair to gold; they had shuttle buses from town to ferry shareholders to and from the meeting and also gave out lunch boxes to all shareholders. The AGM did not have the usual red t-shirt that shareholders are used to, but coming on the back of Safaricom, many were satisfied.
in the meeting – CEO Titus Naikuni talked about the tough year the airline had from the credit crunch, which affected travel budgets and the price of fuel, which escalated during the year.
– Fuel hedging: FD Alex Mbugua tried to explain the subject of fuel hedging, something he said even many accountants don't understand, but which had left the company with a 5.6 billion loss. The company was able to manage an operating profit of 4 billion ($52 million) before hedging kicked in, even though the price of fuel had gone up to Kshs. 24.5 billion representing 35% of their total costs.
– For the last 5 years they have engaged in fuel hedging, this worked in their favour till 2008 – when with oil looking to zoom past $200 they locked in some contracts, only for the price to nose dive to $40. Overall, in the five years the gains remain a positive Kshs. 516 million.
In response to shareholder questions, he also said: 
– KQ board is reviewing hedging policy, and this is through the committee of the board
– some hedging parties have been reluctant to enter into contracts with KQ of late, and insist on some cash cover
– while they could not comment on recent prices they have hedged, some to 2011, he mentioned the numbers have swung in their way as at August and they may have a write back in profits this year when they brief investors in October 2009.
Shareholder questions (with answers)
– how will they control costs? Careful choice of routes, try and expand those that work, drop those that don't. African routes account for almost 1/2 their revenue now.
– Why did employees strike? There were conflicting unions representing employees, and during labour talks, the employees went on an illegal strike as they demanded untenable wage increments. Management was able to come to an agreement with the help of COTU and is looking to learn from mistakes it may have made to avoid this again
– Why is the company's Secretary (CS) not an employee? The Company did a cost-benefit analysis and decided to outsource the function. The CS is still Fiona Fox and she assured shareholders that she responds to all letters written to her; most of which relate to registrar matters
– Where are reports of KQ accidents in Ivory Coast and Cameroon? CEO said investigator reports are still being done by these countries authorities, and they don't have the former, while the latter has not been released KQ so can't comment on it. On the Cameroon crash, KQ and insurers had made a settlement with 90 of the 105 passengers, but some relatives have chosen to sue the airline or the aircraft manufacturer (i.e. Boeing)
– Why did the annual report come out just 3 weeks to AGM? Management said they would try and improve and not just comply with the legal minimum for listed companies
– Why not use Precision Air aircraft (a Tanzanian airline in which KQ owns 49%) to fly to Kisumu since they have no more turbo-props for short runway? The repairs at Kisumu are short term did not warrant a fleet change, and will resume flying there with their Embraer 170's when repairs are done
– Do they plan to fly to the USA? KQ has never said they would fly to US; they have good partnerships and networks (KLM) through which they get feeds from US already, and JKIA will have to make some modifications before they can fly to US.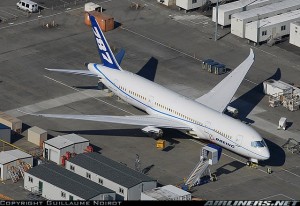 source: airliners.net
– What will be done about Boeing 787 which they have ordered but us yet to fly? KQ are talking to Airbus and Boeing about getting some replacement aircraft (won't be brand new) but a decision will be made in a few months.
– One shareholder asked why managers /directors interest are divergent from KQ i.e. directors own few shares, while executive directors compensation is a significant part of employee compensation: The Chairman said buying KQ shares was a personal decision of directors and he himself bought his shares at the time of IPO when he was not even a director of KQ. The CEO said management has not had any salary increments despite what union said during the strike.
Minor #FAIL's: – The company registrars who had dozens of computers to register shareholder before the meeting, but whose computers were not connected. Anyone could have walked in. They also ran out of ballot papers
– The gymnasium had no water (though understandable at this time of water rationing). It was also not suited to the meeting format; the directors sat so far as to be indistinguishable except on TV screens while poor microphones/acoustics of hall meant some questions/comments were not audible
– Shareholder elections; this year, there was only one independent candidate on the ballot I guess they have realized of the futility of this exercise – and the results out today show all the board nominated directors were unanimously re-elected.
– CDSC (the share people): had a tent outside to register any of the 78,000 shareholders of the company; but they didn't just ask if you had immobilized your shares, they practically demanded you pass by their tent and register to receive statements by e-mail or SMS (do away with the postal service)
Goodies: – Dividend of 1 shilling ($0.013) per share despite the loss. shareholder's register closed day of meeting and this will be paid after October 23
– Lunch box by Sarova with drinks (yoghurt, soda & water), meats (drum stick, beef sandwich, boiled egg), fruits (banana, apple), and bread.