a series of real estate pieces
Real Estate Paradox: was with a real estate developer who's looking to set up even more projects over the weekend; he talked about a paradox where real estate rental prices are dropping, while house prices continue to rise. Note: I've not seen signs of rental drops, but this probably applies to the developer's current financial outlook when choosing to build for sale or to rent in Nairobi today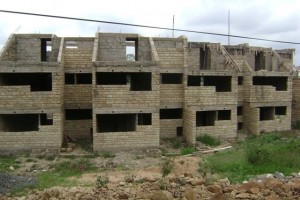 NSSF the Kenya National Social Security Fund NSSF continued a trend started last year of publishing their financial accounts. For the year to June 30 2008, they had of total assets of Kshs. 87.53 billion (~$1.1 billion), partially comprising 49% equity investments (43.7 billion), treasury bills & bonds (11.2 billion), and land & building 24% (20.97 billion) which was down from 29% the year before.
While NSSF's investment income of Kshs. 5 billion was a 25% increase from the year before, poor returns in local shares at the Nairobi stock exchange have hit pension, fund, and insurance schemes leading them to seek greater returns and safety by investing in real estate. Yet the NSSF, because of its past association when it was a political cash cow and got saddled with unpalatable properties, is going against the popular grain, but has no choice even as it faces as long struggle to be viable safety net for retired workers.
Water shortage: dry water pipes in some Nairobi estates have been a pain to residents in some parts of town who have to buy water from vendors. Many construction sites even have to ferry in all the water they need by lorry seems to be a good business idea to have a water lorry now
Bricks & Banks: The new Equity Bank headquarters are now up in Upper Hill and UAP Insurance will soon be putting up a building in the area. On the Westland's side its Southern Credit Bank and Standard Chartered Africa with new buildings about to be completed.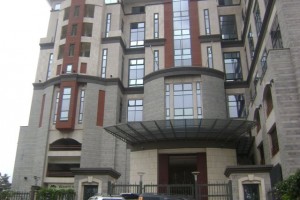 Cement & inflation: I've added retail cement prices to the inflation index starting with a 50 kilo bag of bamburi cement at 780 shillings (~$10).
S&L Gone: Savings & Loan is no more after KCB shareholders absorbed the subsidiary within the group structure as a cost saving measure. There was a nice (offline) article by Carol Musyoka in the Business Daily and she highlighted that S&L's rapid growth was funded, not by deposits, but by funds drawn from parent KCB and wondered what return this was to KCB shareholders
Goodwill barrier: goodwill is a fee demanded by business owners from business tenants, shop owners etc. It's a strange phenomenon; the fee, often as much a year's rent, is paid before the building is even put up for the shop-tenant to secure space in the building. Another fee is paid each time a shop moves in or out of the building. This exorbitant business expense has put off many start ups and small business owners from renting or setting up shop in downtown Nairobi.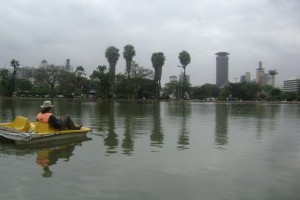 More articles on the goodwill phenomenon from Ghana, a Kenya forum and the Standard