Safaricom have published their >) annual report (download here). In a cost-cutting measure they will not be printing or mailing out these reports to their 829,000 reporters, nor will they serve any refreshments or give gifts at their annual general meeting in August 2009.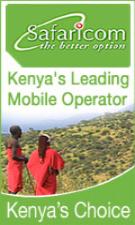 image from sambazanow
A to Z excerpts from the report
Performance Company had Revenue of 70.4b ($915 million) and a pre tax profit of 15.3billion ($198 million). Income was 59 billion from voice, 8 billion from data & SMS, but compared to 2008, growth is 8% and 80% respectively
M-Pesa – earned almost 3 billion from the money transfer system
– Vodafone hopes to take their money transfer model to other countries, though it has not fared well in Tanzania. Safaricom also hope to extend into international transfers from the UK via Western Union: it's in test now (and hopefully will be cheaper than the current WU rates from UK to Africa )
– also plan to extend it to bulk payments (e.g. low end salaries in large organizations)
– agents now recruiting sub-agents
Directors – In September 2008, CEO Michael Joseph (US citizen?) joined the board, while Information Permanent Secretary Bitange Ndemo left the board. Kenya Government still has the Treasury and Privatization heads on the board.
– Susan mudhune joined the board and was rumoured to be the next chairperson to replace 70+ Nicholas nganga
– Both Michael Joseph and Les Baile have 2.35 million shares , chairman has 850,000, and privatization secretary Esther koimett has 637,000
Education working with JKUAT and Moi University on curriculum to get the graduates with the rights skills in telecommunications to join the company
Investment the company bought 51% of One communication limited a wimax service provider. One owns Comtec training & management (has local loop license) , Comtec Integration (has Digital carrier, network operation license) , and Flexible Bandwidth Services (has ISP license). One was technically insolvent. It had net liabilities of -66 million, but Safaricom paid 186 million for a stake in it after estimating it had goodwill of 219 million .
Licenses Safaricom has 5 licenses with a span of 15 years international operator license (1999), international gateway (2006) and 3G (2007). also acquired two more by buying into one communications – local loop operator, and date carrier network operation
Liquidity: Safaricom has trade payables of 11.9 billion, receivables of 4.3 billion, and cash of 4.3 billion . Their financial statements notes that current liabilities (35.3 billion) exceed current assets (17.3 billion) by 18.2 billion ($236 million), but that the company generates sufficient cash (about 30 billion) to meet operations; also that a significant portion of creditors relate to network expansion costs and this is expected to continue as long is period of intense network expansion, and they will borrow is there is s shortfall should auditors have emphasized this?
Media Crunch? Sales & advertising was 2.28 billon ($30 million), basically unchanged from the year before, and this was despite facing and expensive marketing campaign from rival Zain
Shareholders – Pension giants – national social security funds of Uganda ( 160 million shares) and Rwanda (96 million shares) are in the top 10 shareholders but Kenya's NSSF is missing
– Has 465,000 shareholders who own less than 1,000 and while another 300,00 own less than 10,000 shares. The former will be getting dividend payments of 100 shillings($1.30), which makes the toll free payment y dividend a very smart option to apply for.
– No mention of mobitelea in report who recently exited from the shareholder register.
Submarine/Fibre Safaricom is a shareholders in Teams fibre optic cable system , it has committed 1.6 billion shillings ($21 million) , which it estimates will reduce cost of communication by up (Only) to 33% over 5 years
Tax Break Will pay 27% income tax for 3 years from march 2010 , instead do 30% since they listed. other Kenyan companies pay 30%