an occasional post about cars in Nairobi
The Boys are Back: (and some girls too) The TV nightly news have run a series of stories highlighting the re-emergence of crime in Nairobi targeted at vehicles, and not just when they are parked in unsafe spots. Thieves also wade through slow-moving traffic jams in the daytime looking to snatch handbags, cell phones from unaware motorist, or even pry loose indicator lights (which can cost Kshs. 5,000 or ~$65), external mirrors, hubcaps, or anything that meets their fancy and may fetch a price elsewhere. Because of the abundant re-sale market for car parts, Toyota and Nissan are the main vehicles targets, for indicator lights, but of late I'm also Mitsubishi's, Subaru's, and even a Mercedes looking like they've been to a motor dentist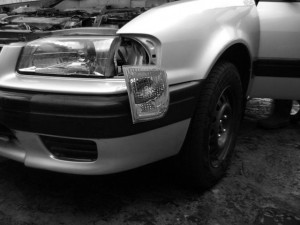 picture taken during a replacement, not a theft
some advice
– keep windows reasonably up though its hot
– don't have valuables in sight
– leave reasonable space between car in front (don't tailgate)
– be aware (don't talk on the phone in traffic)
There are also other variations in crime , including people jumping on to slow moving cars to feign being hit (and later extort drivers claiming medical expense or quick cash settlements) or even crazier crime stories like this AK47 & technical that seems to be straight out of a Mogadishu playbook.
2009 Motorshow Total (Oil) Kenya have announced that the annual Nairobi motor show will be held at the end of August 2009. (some pictures from a past show (2007)). Great, now how about Nairobi also getting back the popular Air Show that stopped about three years ago?
Strange Cars: Robert Nagila, an NTV Reporter, went and dug out an old Rolls Royce (youtube video here) owned by the City Council of Nairobi , while eagle eyed @karuoro spotted a Bentley GT (twitpic) at the Village Market over the weekend.
Round about solution: Roundabouts are not popular with many Nairobians who believe they contribute to traffic jams. I, for one, believe they are a better option for Nairobi's inconsiderate and careless drivers. Slate magazine has an article on story on roundabouts expalining why American should build more roundabout as they are safer than intersections. They are also more applicable to Nairobi since proposals to have huge freeways & fly-overs as envisioned in Vision 2030 drawings are far fetched as there is too little land available around the built-up and clogged Nairobi roads.
Garage Sale: The Government of Kenya has proposed a cutback in ministerial Mercedes and limousines, but Mars Group Kenya are not impressed by the proposed cost-cutting & tax raising sale measures.