Family Bank and KCB 2009 AGM
Family Bank is 25 years old this year and is about the 21st largest bank in Kenya. It is in some circles known as Equity Blue because of some similarities with retail giant Equity Bank (it operated as Family Finance Building Society till May 2007)
They held their AGM today in Nairobi; it was a straight-forward meeting, very informal. Chairman is Mr. Titus Muya who's the founder and was also the CEO till about two easy ago when he relinquished that post reluctantly.
Q&A
Joseph Kaguthi, former PC, Anti-drug tsar is a shareholder in the company and also asked some good questions (he'll be referred to as JK)
Q. When will the bank list its shares? Many shareholders bought shares in the bank in anticipation of it listing soon (JK noted they said they'd do it within three years and they'd be a market for their shares and asked the board to clarify the over the counter (OTC) market as more people want to buy shares in the bank
A. Management replied that they were ready to list last year/early this year, but that the timing was not right I.e. Nairobi stock exchange was in a down mode, see Co-Op Bank shares after IPO
On Presentation of the annual report
– JK noted they have improved the presentation of the report by including details, missions, vision, values, but he asked them to now include a list of top 10 shareholders as this was a governance issue
Q. another asked why if retained earnings were high, the bank was giving a low dividend?
A. Need retained earnings to grow. Also company can't pay share capital or premium back to shareholders
Q. loans as security – One shareholder who's a carpenter narrated a tale of how he fell sick for many months and ran out of funds; he wanted to take a loan using his share as collateral
A. company act doe not allow one to sue company's shares to borrow from same company
Q. why are non-performing loans high?
A CEO O said their bad loans are 6% of loan book compared to banking sector average of 11%. Also they are mining those and collected 100 million from non performing loans last year
Investor outlook
– Only customers can buy shares in the bank
– May have to raise capital in a few years owing to fast growth
– Company registered opened on May 1, and dividend (Kshs 1.50) will be paid on may 30 2009
KCB AGM: KICC is a very popular site for annual general meetings since Philip Kisia (now appointed the new town clerk in Nairobi) rehabilitated what was a very run-down Nairobi landmark. But with almost 170,000 shareholders it may have been the wrong place to hold their annual meeting. The lines snaked all over the courtyard and registration took a couple of hours for some people I hear
Comrade Sylkwan (thank you) was at the meet and gave a brief re-cap of the Q&A sessions
Q: Why there was no proxy for on the financial statements which were issued at the AGM
A: Shareholders had already been sent to the F/S and the previous years the proxy form was used by s/holders to collect multiple gifts
Q: Why foreign institutional investors own a lot of shares in KCB and what benefits it brought to the Bank
A. KCB shares are listed at the NSE and everyone is free to buy them
Q. Age of directors was not indicated on the F/S. Since there were directors seeking re-election, wanted to know if any was above 70years
A: None of their directors was above that age and if so they would have issued a special resolution
Q: why KCB shareholders could not withdraw cash at the Uganda branch
A: the CE said that it was possible to withdraw money unless there was a technical hitch on that day
Q: Triton issue?
A. Ignored this question (continuing a no comment on Triton or any KCB customer policy)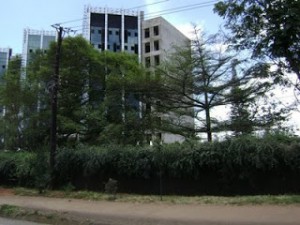 stalled building construction on Waiyaki Way, rumored to be a Triton property
Q: why the bank does not provide fare to the Shareholders who travel from far
A: It was not possible to pay shareholders fare and share dividends
Q: why the CSR budget was so high even when KCB was only issuing a Kshs. 1.00 per share
A: KCB was spending 2.2b in dividends and Kshs. 54m was a drop in the ocean. KCB also needed to establish a good relationship with the community where the business is established.