stories found this week
Stanchart Bank:
Smaller profit – Standard Chartered is being much maligned for being the first bank to report a profit drop in 2008 of 4% to 4.7 billion shillings. ($59 million) (Increased 29% in 07). The bank which adopted a conservative approach compared to Barclays, KCB and Equity. Stanchart had asset growth of 9% to 99 billion (13% in 07), deposits up 4% to 77 billion and loans up 10% to 43 billion in 2008. Still their shareholders will get the highest dividend of any listed bank in 2008.
Here are some other performance comparisons of the main banks that have so far reported their 2008 results.
Goes for smaller customers – In a slight about turn, Stanchart has also launched a new low cost transactional account called Hifadhi, costs 2,000 to open, no ledger fees, or 'cash handling fees' with e-statements you only pay for transactions you incur, though its' not as affordable as other 'cheap' bank accounts for small earners. Going for smaller customer has been a recurrent theme in 2008 with banks, insurance and investment companies lowering the minimum subscription amount. Examples are pepea from Barclays, Toboa from Old Mutual and even the Government of Kenya which lowered the minimum investment for GoK treasury bonds to just Kshs. 50,000 (~$625)
Bank briefs
– Stanchart get back to what they are good at – big corporate deals this one for Kengen
– Gulf African launches a shariah compliant mortgage scheme
– New bank branches: First Community bank now in Malindi, Ecobank in Kisii, while Family Bank re-opened in Githurai
– Another SMS sends Equity customers into bank panic withdrawals this time in Machakos.
From the blogs
Siasa mbaya, maisha mbaya: Global economic slump aside, Nairobi's Stock Exchange will not see a bull run until the country's political problems are sorted out according to MainaT
The Sunday Nation broke a story of the old Embakasi airport been handed over to an unlicensed new airline, but airport analysis comes from one Coldtusker
Following in the success of the infrastructure bond (over-subscribed by 45%), the Kenya Government is offering another bond to supplement its budget deficit; this one is for 8.5 billion ($106 million). More details from Conceptadvisoryservices and the minimum investment is just 50,000 ($625).
Kenya Rugby Effects: Kenya had a wonderful run at the IRB World Cup in Dubai, and knocked out defending champions Fiji in the quarter finals. Here's some rugby loss reactionfrom Fiji.
Elsewhere
Employees lose & lose – it's been a bad week for employees as the Employment Act was set aside and the government shifted more of the pension burden to civil servants to contribute towards their own retirement funds.
Madaraka finalized – Madaraka Estate houses were finally sold, apparently ending a long long running saga between homeowners, the City Council and the National Housing Corporation who should really update their website.
Laptop mania – so many offers for laptops these days, new this week were
– Safaricom selling Macbook with broadband modem for 100,000 ($1,250)
– Acer A110 laptop on sale with open office for $230 – great for Kenyans new to mini laptop market
– Even my bank/broker (CFC) hawks Acer Aspire 4710 and has loans that work out to 5,500 ($70) per month
Is Grad School a Con? – Half the Sunday Nation advertisements were for colleges aiming at the recent high school graduates whose results were announced last week. Also growing are the numbers of universities and master programs, but this article argues against going to grad school to avoid the recession with the author pointing out that;
– Grad school pointlessly delays adulthood.
– PhD programs are pyramid schemes
– Business school is not going to help 90% of the people who go.
– Most jobs are better than they seem: You can learn from any job.
– Graduate school forces you to overinvest: It's too high risk.
(found at chris blattman)
LPG Shocker – when to buy cooking gas last night. Found the cylinder, however it appears that there is now a valve that will be mandatory on all cylinders from April 2009 – it is a universal valve, that will enable consumers to buy LPG /cooking gas from any supplier e.g. Kenol., Total, NOCK – replacing cylinders from any of them, since they will now have a common head/valve. The move is supposed to break the monopoly of established companies e.g. if you had a Kenol gas cylinder, you could only replace it at Kenol when buying new gas, whereas if you wanted to switch to Shell gas, you'd have to buy a brand new cylinder.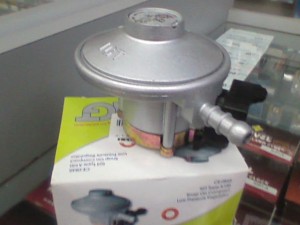 new gas cap
The problem was that many Total stations did not have the valve. (I checked at three stations) and they all sent me to the place that has everything in Kenya – Nakumatt. Nakumatt also say they stock valves for all companies, but only had the generic caps to sell. It's scary to use a generic caps, since there are many fires in Kenya caused by exploding/leaking cooking gas cylinders. Hope this turns out ok when April comes around and more consumers realize they have to buy caps which cost anywhere from 500 ($6.25) to 900 shillings each, another cost to the burdened urban consumer. It would also be nice if oil companies and/or the Government conducted some consumer awareness about this matter, not leaving it to Nakumatt and untrained Petrol attendants.