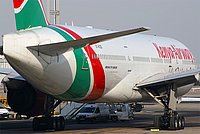 KQ Profit warning for Who?
Kenya Airways issued a profit warning a few days after media reports had painted a rather rosy picture of operations at the airline with increased capacity and utilization. (That's what happens when you release operating results without any shillings or dollar attached.
The fuel price, PEV, and reduced tourism has been well known within the investment community and this did not appear to impact the price until the actual ad and media corrections were carried in the newspaper, perhaps spooking retail investors and the stock is down 22% this week. The operational figures already show that the airline is in turnaround mode and is being hammered when it has already hit the bottom. I need to attend more investor briefings. Neither announcement appeared at the Nairobi Stock Exchange (NSE) website where company quarterly announcements usually run
Profit warning at the NSE
On Thursday, the Capital Markets Authority (regulator) release a brief (copy here ) addressing issues perhaps that should have been said by the NSE. It noted that bear markets do happen (NSE declined 50% between 2000 and 2002), stockbrokers are in trouble (reduced activity, means low turnover and low commission), are restructuring (layoffs and branch closure s), and exposed (risks could arise from fraud. Nevertheless, shares are safe and better left to long-term investors!
We are not rogue this came a day after directors of Suntra Investment Bank, made a similarly candid admission of trouble "business is so low at the moment that we are actually eating into our own funds" – one of the few times a financial institution has admitted being in difficulty, as they tried to contain damager (a single court case), but which left spooked customers flocking to transfer their shares
Executives on profit
Michael Joseph the CEO of Safaricom, Kenya's most profitable company, launched an unusual rant against the government and business climate saying the first three things an investor needs in Kenya are (1) a generator (ii) a 4WD car (iii) a security firm – before they can even think about making any investment in Kenya. he said they spend 1.5 million euros on diesel and called the new universal service fund tax stupid as the mobile sector is already over-taxed
A man who sees no losses on the horizon is the CBK governor, who remains an eternal optimist after launching an infrastructure bond. Kenya plans to raise Kshs. 18.5 billion (~$245 million for roads, electricity generation & distribution) from investors who will pay a minimum investment of Kshs. 100,000 or ~$1,250). 12.5% interest will be paid semi-annually with principal repaid 2015, 2017, 2021. He had earlier commented that global meltdown should not have much impact because Kenya is primarily a rural agro-based economy
What else happening?
Kenyan knows Madoff: listed among the hundreds of fabulous fraudster Bernie Madoff's clients is Sangare Ranch of P O Box 24 Mweiga Kenya Africa
Barclays Uganda counters rumours of a collapse/closure
Global credit rating of South Africa, previous rate triton high credit ratings of Kenyan companies with collapsed oil firm Triton downgraded to DD, Sasini's ratings maintained at BBB+ (triple B plus) and A2 (single A two) for the long and short term respectively, and Eveready East Africa Limited downgraded to BBB+ (triple B plus) and A2 (single A two) for the long and short term respectively. Moody have downgraded Toyota today, so who's safe
Fuel shortage was experienced in Nairobi – back and forth between Kenya pipeline company, ministry of energy, oil companies who all absolved themselves for any responsibility; Read more at Coldtusker
Who's the Total Man at the NSE?
Mumias profit down 73% to 231 million at the half year on sales of 6.2 billion (down 8%)