After a slight delay here's the new KQ 737-800 5Y-KYE
Kenya Airways gets another 737-800 from Boeing tomorrow. Bold expansion at a difficult time for many airlines, and KQ is still increasing routes and frequencies but can reduced fuel prices be passed on to passengers?
Regional Routes
Air Tanzania was suspended from flights and offered a $2 million bailout by the government only?
Zambian Airways suspended flight without notice citing high fuel costs.
Virgin Nigeria suspended flights to London and South Africa.
Delta is US is expanding routes in Africa later this year (e.g. Nairobi in June) and so South African Airways will start a nonstop service from New York to Johannesburg in May that leaves earlier and allows for seamless connections on to other African destinations
Flight of Woe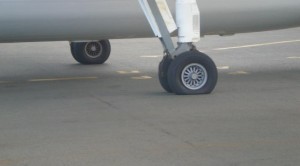 On a recent local flight, the aircraft was found to have puncture at a mid-way stop
So the airline attempted to move the passengers to a more refined vehicle