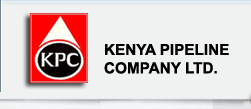 Pre-IPO Peek at KPC
Kenya Pipeline Company (KPC) is expected to be the next big privatization project to help plug the current Government of Kenya budget deficit. The IPO transaction adviser selection process is already underway for KPC and other state corporations
How much can one glean from audited accounts of the giant company? I got hold of a 2007 annual reports of the company – a rare big glossy booklet that mentions every project e.g. SAP, ISO, fibre optics, refurbishments in Western Kenya, Mombasa, Athi River, with lots of graph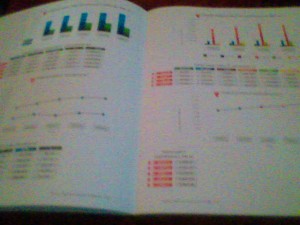 KPC still mostly compares itself to other state corporations in terms of goals such as to raise capacity from 440,000 to 880,000 lire per hour by August 2008 – a massive project that later turned controversial and may have cost the last MD (Okungu) his job in January 2009.
Financials
– 2007 revenue of 8.8 billion shillings (~$117 million) (2007 was 8.45 billion and 2003 was 6.5 billion). 2007 Revenue comes from export services (4.3b) , local services (3.7b), and 748 million from kipevu storage fees
– Pre-tax profit of Kshs. 4.3 billion in 2007 (~$53 million)
– Earnings per share was 163 shillings [153 in 2006, 2003 was 29 shillings) – company's shareholding is made up of 18 million ordinary shares of 20/= par each.
– Dividend paid out of 8.25 per share each year 2007 and 2006
– Cash of 4.5 billion (1.1 billion in 2003) of which 2.5 billion is in treasury securities (which they only started investments in 2005)
– Paid 2.2 billion in direct and indirect taxes and was recognized by Kenya Revenue Authority as a distinguished tax payer
– Total assets of 20.2 billion shillings (18.7 billion in 2006) –however fuel stocks of 13 billion shillings (384,509 cubic metres) that is owned by marketers is not include in their accounts. [2006 was 36 billion comprising 856,958 cubic metres]
2008 decline: summarized KPC financial accounts show revenue declined by 7% to Kshs. 8.2 billion and pre tax profit 54% down to Kshs. 2.6 billion in 2008
Auditors: Accounts audited by controller and auditor general, who hired Deloitte & Touche; who said the accounts were ok except to note that that 1.2 billion receivables (current assets) includes 348 million owed from an unnamed oil company that is the subject for a court case and for which no provisions have been made
Scandals: has been a cash cow for politicians for years with a high turnover of managing directors, manager and directors. Different parts of the report mention Kshs. 967 million pending in lawsuits, 404 million leasehold land unable to develop since it is gazetted forest land, 347 million from Oil Company, 314 million of obsolete spares, and Kshs. 221 million for a finance deal with Triple A that cost the previous MD (Ochuodho) his job. The company also provided Kshs. 382 million of services to National Oil Corp of Kenya (related company as they are both owned by the Government– do they pay all oil marketing fees?
Banking
Bank with NBK, CBA, Stanchart, Co-op. In 2007, they paid off all bank loans (EIB, Stanchart, and CBA) amounting to Kshs. 500 million in 2007, but are still stuck with the 221 million Triple A loan.
– KPC recently signed a syndicated loan of Kshs 8.2 billion with CFC-Stanbic, Barclays, CBA, Citibank, and KCB.
Exports:
– Exports 58% to Uganda, 155 Rwanda, DRC 14% Tanzania 6% Sudan 4% Burundi 3%
– strong shillings bad for export sales
-pricing structure – more expensive at Eldoret and Kisumu means that the company loses revenue if other countries e.g. Rwanda, Uganda remove their oil at Nakuru or Nairobi depots
– 50% of their revenue comes from fuel exports, and With oil being found in Uganda, Sudan, and possibly Congo, is the pipeline capable and adequate to transfer oil from central Africa to the coast at Mombasa?
Others & Non core activities
– will Construct an LPG plant with private sector investors (including Kenya pipeline refineries limited, and now-collapsed Triton) in Mombasa at a cost $50 million and one in Athi River at a cost of $13.5 million by Bharat of India
– Other income includes Kshs. 8 million in helicopter income, and also disposed of 120 million worth of helicopters in the year 2007
– 50 million donated to ministry of youth affairs
– 6 acres worth of land worth 30 million in Nairobi was donated for a street children rehabilitation center
– Spent 114 million in advertising (by a monopoly) and 35 million shillings in legal expenses
– Has shares in petroleum institute of east African and consolidated bank
– Successfully changed their pension from a defined benefit to a defined contribution scheme
Outlook:
– Slight financial dip in 2008 will probably be attributed to the post election disruptions
– Capital spending could be significant as they are extending the pipeline to Uganda (Eldoret to Kampala). Also the company already spends quite a bit in pipeline rehabilitation costs, and won't a complete new pipeline (though more expensive) be a better solution?
– Needs a stronger management team led by a strong MD – like Kengen's Eddy Njoroge (someone with a legacy to protect who will shun the wheeler dealers) and a stronger board (not just the Energy ministers' cronies)
– Could be a good IPO buy i.e. a cash cow pre-tax profit margins of almost 50%
Other Opportunities
– Bank of Africa: branch managers, assistant branch managers, operations assistants' recruitment@boakenya.com by 5/2
– Consolidated bank credit manager, administration manager, apply to the Head of HR 51133-00200 by 31/1
– Housing Finance senior relationship manager (mortgage finance), portfolio manager, legal officer, human.recources@housing.co.ke
Dyer & Blair sales agents, and for several hundred other weekly jobs visit Kenyan jobs blog