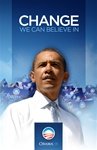 Congratulations to Barack Obama the next President of the United States of America. His name has appeared in these pages five times before today:
– April 2005: Congratulations to Wangari Maathai and Barack Obama for making the 2005 Time Magazine Heroes list. However I fear this achievement will be overshadowed be overshadowed by the drama surrounding Presidential wives.
– August 2007: After Oprah endorsed Obama , I endorsed Jonathan Mueke who was gunning for the Westlands MP seat
– January 2008: One review of the post-election violence in Kenya found that in the pre-election period, the (Kenyan) opposition may have been falsely buoyed by opinion polls which are not sound (& could the same thing have happened to Obama in New Hampshire?)
– Also in January 2008 mused that President Obama needs Equity Bank because 46% of African American household's don't have bank accounts – and he should borrow Equity Bank's revolutionary model to bring banking to the unbanked.
– April 2008: In queing for the Safaricom IPO refers to a Kenyan habit of waiting till the last minute to do things as Obama also took a long time to warp up his party nomination.
Here's to many more mentions, starting with – US stocks reacted positively on election day, and in the post election victory celebration the Nairobi Stock Exchange(NSE) has also rallied [Top gainers according to stockskenya – National Bank +9.94, CFC +9.91, Kenya Airways +9.91, Sasini +9.83, Diamond Trust +9.79 with no losers yet]