Insight to a dot.com stockbroker
Discount Securities web site is still up, with today's stock prices – its' even more up-to-do date than other online stockbrokers sites. The site leads off with an announcement of the Restructuring of Discount Securities Limited:
we would wish to notify the public of the following regarding the much-publicized DSL restructuring;
1. That DSL is not under statutory management; KPMG has been appointed to act as executive director in a corporate restructuring strategy.
2. That the stock brokerage operations of DSL shall continue as normal and DSL offices shall remain open.
– We encourage the DSL clients and other stakeholders to stay calm and cooperate with the new executive director
I came across several promotional materials from Discount and an aptly titled blog post about Discount on the folly of running your mouth. It seems Discount spent and spent, and told, but not as much as they spent. They may have thought the Nairobi Stock Exchange bull run would continue forever, the IPO gravy train would never end, as everyone was opening a CDS account for their maid and grandmother to get allocated more IPO shares etc.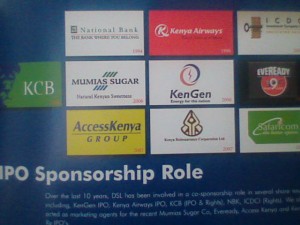 Discount had a magazine: I'm not sure how many issues, but I have the January 2008 issue – yes while the country was politicking, they published the January issue of the DSL Explorer with another bold title – Branching Out.
It was full of pictures of smiling staff at the new branch offices of the company. Discount seems to have opened up to 22 branches; they marketed their unique Country-wide Branch Network – and look how many offices they opened in the last two years (as contained in the magazine)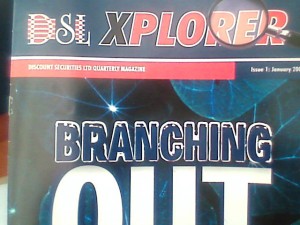 2006
February – Mumias (branch opened)
October – Kisumu
December – Bungoma
2007
January – Mombasa, Nyeri
April – Tom Mboya (NRB), Nakuru, Nyahururu
June – Fedha (NRB), Meru, Nanyuki
July – NHIF (NRB), Thika
September – Naivasha, Embu
November – Eldoret
December – Kitale
They were opening (fully staffed) branches faster than most banks; at a rate that made watchers of Equity, Barclays and Family banks uncomfortable – but those banks had assets, products, strategic plans. But it turns out there may not have been enough customers for these new broker offices/branches.
Mission, Vision, Values: All good companies have them, and Discount did too (they are still there on the website), and all the branches even had individual goals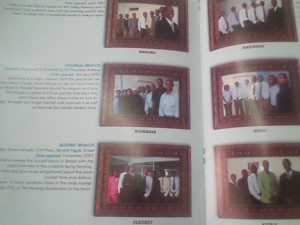 OUR VISION: To be a leading stockbroker and investment advisor in the East African region, offering exemplary professional advice to both individual and institutional investors.
MISSION STATEMENT: To demystify the issues surrounding the stock market and facilitate accurate and well-researched information to ensure profitable transactions for our clients.
CORE VALUES
D-Discipline- We execute what we promise.
I-Integrity- We adhere to high ethical standards of business conduct.
S-Sustainability- We aim to develop and maintain possibilities that are consistent and long-lasting.
C-Customer Satisfaction- We understand, respect and always put the needs of the customer first.
O-Operational Efficiency- We have a sense of urgency for all our processes and a strong bias for action.
U-Uniqueness- We value each other's innovative ideas and are always looking for better ways of doing things.
N-Networking- We establish strong relationships with our clients and other stakeholders.
T-Teamwork- we value individual excellence and work as a team for the benefit of the firm.
They sponsored the marathons (Stanchart, Lewa), investor roadshows, golf tournaments (Nakuru, Limuru, Railways, Karen) concerts, women's forum [even negotiated to advertise at this blog]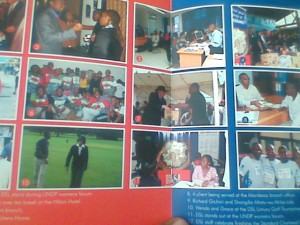 Outlook: It seems to have been a wonderful company to work for, but it reminds me of some of the high-flying, short-lived dot.com companies who ran out of cash and eventually crashed.
Discount may have been bigger than Francis Thuo or Nyaga Stockbrokers, and so far, there are not many signs of fraud or rogue-broking on the part of the executives or staff – except for NSSF shares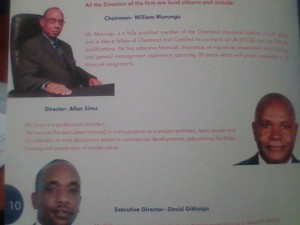 Maybe if the Co-Op IPO had been rolled out earlier, with Discount as a co-sponsoring broker they would have gained a few more months of business. And perhaps if it's true, then maybe the CMA/NSE acted in time and that some investors' money and shares may be found to be intact by the new management.