It's been a while since the last Kutwa post. Here's a rundown of things, most from the daily papers and various sites that have piled up
Banking: Co-Operative bank are deep into the marketing program for their October 20 listing at the Nairobi Stock Exchange. They may also venture into mortgage finance
– Barclays and Standard Chartered will both offer mobile messaging services to their customers
– Rand Merchant Bank (SA) plans to expand to Kenya
– Salary cards are coming to Kenya as FNDS3000 Corp which launched its payroll card program in South Africa and will follow into Nigeria, Kenya, Tanzania, United Arab Emirates and Qatar
What's in a Name?
a step forward: Telkom Kenya is now Orange: more on their new site and products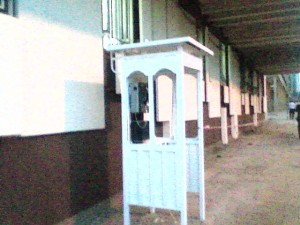 will they have orange phone booths?
– Nyanza petroleum dealers is now called Auto Xpress
– Chloride exide is now Chloride Solar
– The naming rights for Nyayo national stadium are up for sale to a corporate bidder (will it be Safaricom or Zain Stadium?)
a step back
– A new name is recommended for the discredited electoral commission of Kenya
– Grand Regency is now Grand Laicos Hotel?!
Developments: A new 21 storey 5-star hotel in Nairobi to be situated next to Barclays plaza (and is a stones throw away from the former Grand Regency)
– Kenya anti corruption to build a new headquarters
– Two battery recycling factories will be set-up; one in Changamwe and one in Konza
– Ethacom international will set up an ethanol production plant in in Bungoma
– Nairobi City council is seeking 50 acres for a new cemetery
Airlines: There's little reporting about a pending strike of Kenya Airways engineers; however K24 TV reported that this may affect plans of President Kibaki to fly to London next week as engineers were going slow on maintenance of his planned aircraft and also other repairs after another little reported aircraft incident.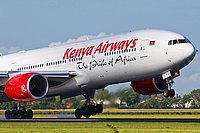 [image: KQ 777]
Energy
: Following last months
electric shock
it was pleasant to see my electricity bill drop from 2,600 to 1,800 shillings ($26). No thanks to KPLC though, as the savings came largely from taking
cold showers
that reduced consumption from 161 to 115 units . Meanwhile there was
another increase
in KPLC fuel cost from 769c/kwh to 778c/kwh this month.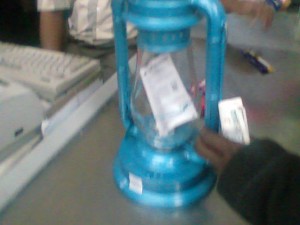 popular item in supermarkets
– Why doesn't the government owned National Oil Corp (NOCK) who are supposed to check against check the
high petrol prices
charged by oil marketers sell petrol at the Kshs. 100 per litre (~$6.4/gallon) price that Energy Ministry says is correct?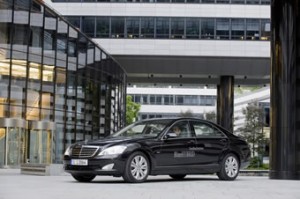 – An S-class with the
fuel economy
of a Toyota? Pity Merc drivers are not concerned about fuel economy
ICT: The Kenya government plans to set up an official blog by September this year to facilitate better communication between the government and the public. "The blog will allow the government to respond to everyday issues being raised by the citizens," PS Bitange Ndemo told journalists in Nairobi. "More and more people are turning to the internet to read, write or say whatever they want to say and if such forums were properly utilized, especially during the election period, we would not have experienced the kind of problems we had in the country at the beginning of the year." hat tip Xinhua News – China
– Also the Kenya Government will set up a $39 million venture capital fund
– Telkom /Orange makes peace with Safaricom
– Controversy about an outsourcing scholarship
– Outsourcing #1: Pioneer BPO Kencall will manage call center for Telkom/Orange
– Outsourcing #2: site stats here show that Mauritius (9%) has overtaken the UK (8%) to be the third highest source of traffic to bankelele – after Kenya (45%) and the US (17%) – but, upon closer scrutiny for true fans there, it turns out the readers actually Kenyan-based – but routed through Mauritius.
Opportunities: The Skunk Awards 2008 is your chance to recognize and reward the leaders in the various ICT fields in Kenya. Chosen by YOU, the real stakeholders in the Industry. Vote for ICT Company of The Year, Best ISP, Most Innovative ICT product, Best Local Website, Best Local eCommerce Website, Worst Local Website, Best Local WebHost, Most Open Sourced (is that a verb) Organization, Best Customer/User Support, Worst Customer/User Support, Best Training Institute, Most Promising ICT Startup, Best Paying Company, ICT Entrepreneur of the Year, Best Local Application, Most Transparent ICT Tendering Govt Branch, Most Successful Government ICT project, and Worst Government ICT project. Send in your nominations to skunkawards@gmail.com before Friday October 10th.
– Apply online to be an Acumen Fund Fellow 2009-2010. D/L is 20 October
– Take part in the Wildman Triathlon in Watamu on October 18.
– Zebrajobs is a cool new job site that has some interesting opportunities in this past of the world
Other jobs: You can't compete with Kenya's largest employer, the Government of Kenya. Soon available at the Governments Public Service site will be jobs including at the Ministry of finance principal accountants – 26 posts, chief accountants – 64 posts accountant II – 320 posts!; at the ministry of energy (director of renewable energy, senior deputy director of renewable energy (engineering) , senior deputy director of renewable energy (biomass) ) ; at the Ministry of immigration – immigration officer II – 200 posts; at the ministry of fisheries, chief fisheries officers – 142 posts, fisheries officers – 78 posts; and at the Ministry of medical services – Nursing officers III – 686 posts, clinical officers III – 548 posts, medical lab technologists – 124 posts and Pharmaceutical technologists III – 100 posts. The application process involves a mix of new and old technology – you can download the forms online but applications must be sent in by snail mail (post office) to the to the secretary PSC p o box 30095-00100 Nairobi by 13th October. Thereafter applicants can check the status of application by sending an SMS!
– Dyer & Blair: Database administrator, network specialist systems administrator. Apply through Manpower Associates by 26/9
– Econet wireless rolling out in Nairobi Mombasa Kisumu Eldoret (when?) is hiring head of field operations, field operations engineers, manager – RF optimization, RF Planning & optimization engineers, Manager base station sub systems, BSS engineers Regional managers – passive infrastructure . Apply to techrecruit@econet.co.ke by 29/9
– Equity Bank is hiring credit officers, and debt recovery officers
– Genghis capital: head of stockbroking, head or research securities dealers. Apply by 10/10 to the head of HR at 9959-00100 Nairobi
– Gulf African bank: Area sales manager, manager product development (housing) credit administration manager, head of audit – apply to recruitment@gulfafricanbank.com by 22/9
– HLB ashvir: audit seniors audit manager – apply to audit@hlbashvir.com by 20/9
– KCB branch managers, Business bankers- apply to recruitment@kcbco.ke by 28/9