The 90th annual general meeting of The Standard Newspapers Group was held at the Panari Hotel on July 16.
The number two media house in Kenya is in the middle of a three-year turnaround plan that had among others, seen it recapitalized, appoint new directors and executives, move to the main investment board of the NSE, restructure its balance sheet (move from a reserves deficit to surplus), make capital investments amounting to Kshs. 1.2 billion (new printing press, new headquarters building next to the Panari, among others), and resume paying dividends.
Circulation is up 40% in a year (at the expense of competitors'), the deputy chairman said as he laid out plans, but without divulging details at their 'main competitor' (Nation) likely would learn of them through some mutual shareholders.
Format was Questions, then Answers from the directors, mainly Chairman Robin Sewel, Deputy Chairman Paul Melly and MD Pau Wanyagah.
Right off the Chairman apologized for some omissions from the annual reports and agenda that shareholders had been sent – which were a list of top shareholders and an agenda item to approve payment of dividends to (8%) preference shareholders Shareholder questions were the order of the day, and some of the subjects covered included;
Capital investments:
– The 1.2 billion not reflected in the account; these are multi-year investments spread out over several years
– Is the new plant and headquarters on land owned by the mzee? The land is owned by the standard group.
– Is the printing press new – as this is the third press, and others may have been used and did not last long?
Dividends:
– When will the dividend declared in April be paid? It will be paid August 15
– Why the delay in dividend declared and can it be paid with interest? The law allows a certain period for companies to pay dividends, and no interest will be paid
– Why an interim, but no final dividend? The company want to resume a consistent dividend-paying practice, and not over-do it in one year and not be able to in subsequent years.
Fund-raising:
– Company has raised 1.2 billion – from where? From internally generated cash (362m in '07) and borrowings.
– Why loans from shareholders – trade world and miller? These are at market rates.
– Why not raise funds from shareholders – so that the gains will be from dividends not interest payments? Tax gains from borrowing.
Content:
– Why does KTN not appear to support/relate to standard and vice versa? Each has to differentiate their own content and not cannibalize each other
– Plans to promote local content and programming which are very popular in rural areas and which one competitor (citizen?) is doing very well? Plans are underway and they recognize that market
– Plans to go to into radio? They have been trying for some time, but CCK says no signals are available, so they are looking at other entry means (purchase existing?)

Online strategy:
– The website only updated once a day; that will change, as they will soon switch to 24-hour site updates
– Because of infrequent updates, website not well known or searched for: plans are underway to change this new website?
Accounts presentation:
– For how long will KTN be in receivership? The KTN company is dormant and all their financials are processed through Baraza.
– How long will preference shares be on the books? The amount is so small they have not thought it necessary t go through the expense of wiping them away, but could easily pay them off.
– On the previous minutes (2007 meeting) one shareholder asked if two issues from last year were resolved, namely: the adoption of a company ESOP and buyout of remaining minority shareholders in Baraza Limited – but the chairman said they had still not been finalized.
The company will in future include:
– Scan signatures of auditors and directors.
– Highlight CSR activities undertaken.
– Complete CV's of board members.
– Directions to meeting venue and contacts.
– Information about the company registrar.
HR:
– Did some directors resign or were they sacked? Their contracts ended and the board felt it was prudent to replace them.
– How will they ensure capacity to run new press is retained? Staff are being trained in Germany and their terms will be reviewed to retain them in the company.
Others:
– Plans to get on GTV? Will switch from analog to digital broadcasting soon.
– Plans to go regional (East Africa)? Plans are underway, but no details yet.
– Why are magazines cheaper to order individually than it  using Publisher Distribution Service (PDS) who should enjoy economies of scale? That is magazine industry norm where individual subscribers get better terms if they make a long term commitment.
Goodies: tote bag, with two shirts (polo and tee), and a newspaper of the day. A buffet lunch, which I thought, would be a messy affair turned out to be ok as only about 200 of the company's 3,000 shareholders were there to pile their plates at the Panari Restaurant.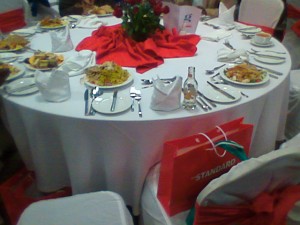 full plates, but owners already gone back to re-fill