Safaricom needs a reverse stock split to get rid of their unhappy shareholders.
– Anyone who has less than 10,000 shares by December should be paid off by the Government or Vodafone at the IPO price of 5 shillings or market price, whichever is lower at the end of the year. Investors will not sell their shares at a loss and the least they can do is recoup their money from this mess (excluding their loans)
Kenol tweak: 36.67 million shares change hands worth 3.3 billion shillings on Friday. Meanwhile kenol/kobil stations have the most expensive fuel in Nairobi. Diesel has hit 101 shilling per litre ($1.55), while petrol is at 108, that's about 6 shillings more than my station of choice.
Cola tweak: After enduring a difficult first quarter, coca cola is having a bit of a tumble in the second quarter due to to EABL's Alvaro – at least in urban areas where it has become the non-alcoholic drink of choice for many previous soda (and juice) sippers. Coke has unleashed another multi-million shilling giveaway promotion to win back customers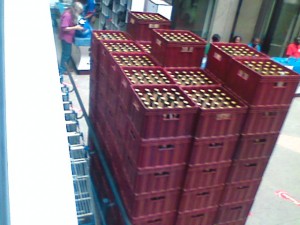 alvaro cases at Nakumatt
Celtel tweak – More celtel confusion; The ink is not dry on posters for their newest promotion and already the terms have changed (for the better) [for customers to get free calls will now cost 65/= ($1) a day down from 99/=].
August will be a significant month for the mobile sector as Celtel switches to the Zain brand, Safaricom release their first quarterly results after the IPO, and Econet should finaly/hopefuly roll out operations.
Media tweaks: All journalists and correspondents practicing in Kenya must be registered with the Media Council of Kenya – and to do so they must each pay Kshs. 2,000, while foreign journalists will have to pay 10,000 ($154) per year [those on short term assignment of up to 3 months pay 5,000]. Amounts due by 30/9. Television radio and newspaper organizations also have to pay a quarterly fee depending on the number of media outlets
– Standard tweaks Two weeks after the launch of the new Standard, their strap line of the standard has changed;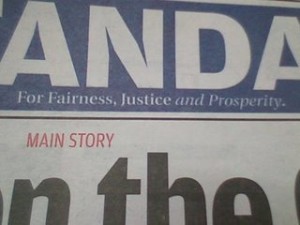 new standard at launch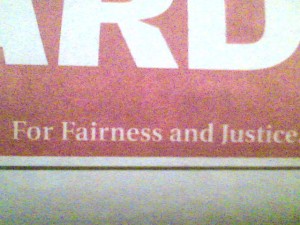 standard yesterday
Sunday Nation tweaks now has the best of best of Whispers – favorite columns of the late humorist Wahome Mutahi and some articles of the New York Times
From the blogs
– Pointer for Access Kenya shareholders to read
– There are only 60 lions (adult) in the Mara – but that's an improvement by 50% from year 2001
– How bad are things for those who took IPO loans for Safaricom? Ssembonge shows that small investors are hurting more than bigger borrowers.
– Cautionary tales on life insurance from Tujuane
– Peer pressure: tales of GDP growth of rates of 8% in Ghana and
21% in Angola
– Link to a puff piece in memory of the former finance minister
-US Airways to remove all in-seat movies from their planes, while Emirates is targeting to remove all paper (in-flight magazines and publications) to save a ton of weight on the new A380 (to compensate for a ton of water for showers in first class (from airliners.net)
Opportunities
African Banker Awards. deadline for nominations if 31 July in the following categories: African Banker of the Year, African Bank of the Year, African Investment Bank, Best Development Bank in Africa, African Microfinance Bank, Best Issuing House, Most Innovative Bank, Deal of the Year, Socially Responsible Bank of the Year, Best Global Bank in Africa, Award for Gender Sensitivity
Jobs
from the daily papers last week
– Aircraft Leasing Services: captains, first officers for Embarer 135. als@als.co.ke
– HR director at Housing Finance. Apply through deloitte esd@deloitte.co.ke by 1/8
– MD of KCB Rwanda. Apply to recruitement@kcb.co.ke by 8/8
– KPMG Uganda: Internal Audit Services manager, Senior Internal Auditor, Internal auditor, forensic auditors. Apply to talentrecruit@kpmg.co.ke by 1/8
– Corporate affairs manager of Nation media group.
– Independent sales agents at Standard Chartered Bank. Apply to Susan.Ombati@ke.standardchartered.com by 31/7
Others vacancies at Kencall, Kenya Airways, and Family Bank [Credit officer, Procurement Officer, Works Officer, Accountant, Accounts Assistant, Administrative Assistant, Assistant Manager, Audit Manager, Branch Accountant]
Beach plots too good to be true? Lots of land available in Mombasa for real estate investment from Datkit agents including 3 acres creek in new Nyali with 120m sea frontage, 1.3 acres over looking Nyali golf club, 5 acre lots in kikambala, 14 acre beach plot next to Neptune beach, 25 acre beach plot next to kaskazi hotel with 168m beach front, 1/3 acre residential plots in shanzu (2nd row from beach)