away from the Grand Regency
Banking
– CFC/Stanbic merger/takeover formalized: As at June 1, the combined banking groups had assets of 78.3 billion shillings [$1.26 billion], deposits of 55 billion [$888 m] and loans of 38.9 billion [$627m]
– EABS Bank is now Ecobank Kenya
– Business Cubs: Bank of Africa will launch a small business Club for clients.
– Going international: building on the success of Safaricom's M-Pesa, Vodafone will do money transfer between UK and Kenya challenging western union on phone transfers to India, Turkey, Egypt and South Africa (from Balancing Act Africa)
Investments
– Everyone lovers Safaricom; with 90% of the shares volumes since listing, the company has been added to the AIG index, NSE 20 and NASI indexes from July 1
– One month after Safaricom allocations, and despite paying an extra fee (30/= for a CDS statement) and making several trades, no new CDS statement has come in the mail
Media
– KTN joins the morning show club with Sunrise Live – coming a few months after Citizen TV and Nation (NTV) with their 'breakfast shows'
– There's a new relaunched Standard newspaper out today with new layout – but their byline For Fairness, Justice, and Prosperity is straight out of Superman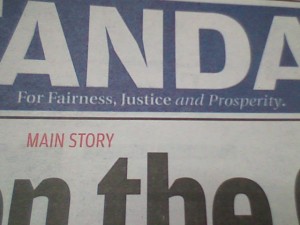 Energy
– Sweden/China joint oil search: Lundin Kenya has bought a share of the field assigned to China [Block 9, Kenya].
Travel
– Having moved to cut out travel agents, Kenya Airways will next offer hotel and car booking online at their website
– Rift Valley Railways (RVR) will raise freight charges up 14.5% and will charge a fuel surcharge based on average diesel cost and US$ exchange rate from 1st august
Other
– Kenya has no summer or winter, but the high court has a summer vacation from 1st to 8th August
Questions from the blogs
– A recap of the Kenya Re AGM
– Has tourism in the Mara recovered in 2008?
– Does EDGE or 3G after all?
Opportunities
Digital: KDN and the ICT Kenya Digital Village are offering free connectivity for digital villages and schools: the program targets rural cyber cafes and schools – who are willing to pay a set- up fee, and share some revenue earned with KDN
Investments
– The Barclays Bond closes tomorrow (9/7)
– KCB rights close on 18/7 – so far only NBK has offered loans for KCB rights (up to 90% finance)
Jobs
– EABL: logistics manager, governance improvement manager, group audit & risk manager, application support analyst, procurement managers (2). Apply to hr.recruitment@eabl.com
– The electoral commission of Kenya: registrar of political parties, internal audit manager, finance officer. D/L is 23/7 by snail mail
– Captains of B1900 C and D at executive turbine. Apply through info@xturbine.co.ke
– Film commission of Kenya: head of programmes, hear of HR & administration, head of finance, Programmes manager, marketing assistant, legal assistant, ICT assistant, executive secretary. Apply to ceo@filmingkenya.com by 18/7
– Keroche: distributors, area sales representatives. Apply to director.marketing@keroche.com by 11/7
– National Oil Corp of Kenya: risk analysts, internal audit assistant, procurement analysts, supply analyst
– Executive director of the privatization commission which became operational in January 2008. Apply (through deloitte) to esd@deloitte.co.ke (22/7)
– Resources manager at the Rockefeller foundation. Apply (though KPMG) to esd@kpmg.co.ke by 11/7
and
Marie Stopes: deputy director of male circumcision project (africa) [location: zambia} and male circumcision partnership deputy project manager [location: zimbabwe] d/l is 19/7
Scholar/internships
– Rhodes Scholarships (2) for Kenyans. D/L is 31/8
– World Bank young professionals program. D/L is 15/7