– "We went into the heart of Africa self-invited — therein lies our fault." (Henry Morton Stanley)
– How to write about Africa (Binyavanga Wainaina)
The 2008 Kwani Lit Fest kicked off on Wednesday night with a talk on How foreign correspondents have formed the literary image of Africa with a panel consisting of Steve Bloomfield (The Independent/Monocle), Binyavanga Wainana (Kwani), Jonathan Ledgard (The Economist) and Mary Anne Fitzgerald (London Times)
excerpts
For
– Foreign correspondents write for a foreign audience
– African newspapers who can (Daily Nation, Mail & Guardian) don't use local correspondents. They pay Reuters to cover other African countries yet local expertise is plenty
– While it's not appropriate for a news organization to have one person cover the entire continent called Africa, there is only room for two stories a week from Africa in many organizations. And they are often about misery
– Kenyans are as ignorant about Somalia as Americans
– Africa is still the place where young journalists are sent to the vast continent to cut their teeth in journalism. It is where many careers are made
– African countries should not be treated with kid gloves, and foreign reporters should not shy away from writing about the ills of Africa in the interest of positivity or pan Africanism. E.g. Kenya went through a violent period this year and it was a much more advanced society than Yugoslavia a decade ago
Against
– Many Africans grew up with images of the rest of Africa shaped by foreign correspondents and authors. These images are not necessarily the true Africa
– Foreign correspondents inhabit and write about a world alien to most Africans – so how can they write about Africa? They are not encouraged to deviate from the formula
– East Africa was romanticized by the pioneers of foreign journalism and Hollywood. The history of West Africa which was more complex (slavery, trade) and is still not widely understood or covered by the foreign press.
– Unfortunately, foreign correspondents sometimes become the story e.g. I couldn't leave my house because of the genocide outside.
Even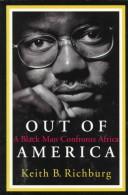 On Keith Richburg and his controversial book Out of Africa: For black American correspondents there are advantages (sense of community) and disadvantages (danger as you may resemble one warring tribe) to working in Africa.