some rambling thoughts to start the new year
It's been a week since the election was held last Thursday and we are in a different world at the beginning of 2008.
Up till December 2007, the focus of Kenya was investing towards Vision 2030 – now we may have to find a new target to aim for – a Vision 2009, which is to perhaps to get the economy back to where it was in 2007.
The coverage by bloggers, Kenyan Pundit, Thinker's Room and others has shown how we have receded from a generational vote (half the cabinet and sitting MP's voted out – some after spending decades in parliament) to the equivalent of a – hate the term banana republic
Kenya has been there before, but was it necessary to go back? To be on CNN and Al Jazeera alongside Pakistan and Zimbabwe? If Ms. Bhutto had not been assassinated, Kenya would probably have been the top world story. This has now happened as Pakistan has reverted to status quo (with an election next month)- while the situation in Kenya has gotten worse each day.
The election was a spark; When one is car-jacked carjacked or caught in a Nairoberry situation, the smart advice, is to co-operate with the thugs – as a car or money is not worth your life. The election created such a feeling of being robbed in many parts of the country, but people fought back. They could not hit at the alleged (and likely) carjackers at the KICC, so they revenged against the agents of their perceived enemy (Kibaki, Raila, Moi, and Kivuitu) on the ground – their own neighbors.
Beyond Politics
From stories about the violence around the country, this has gone beyond any PNU vs. ODM, or Raila vs. Kibaki. It has pitted neighbors against each other, the have-nots against the haves, communities being targeted, revenge targeting, rapes, looting, highway extortion or murder gangs, and others acts verging on ethnic cleansing.
There have been simmering issues in the country – unemployment, poverty, landlessness, jealousy & envy, police crackdown on cartels in slums and the matatu sector, the government crackdown on pyramid schemes that had developed extensive networks of 'investors and savers' in many urban & rural areas, – all followed by opportunistic thieves (looters).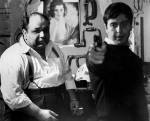 The bloodshed in Kenya is a result of simmering tensions in the country. It has been totally unnecessary, could have been avoided, but the spark/pressure cooker was triggered by the ECK decisions over the weekend.
consumers & the economy
My personal hardships pale in comparison to most Kenyans – but include; no petrol for car, January funds being used to stock up/buy essential dry foods, no fresh foods, no cash as ATM's were empty/unplugged, lack of Safaricom airtime and Internet access (except by cell phone)
We as Kenyan citizens are not used to this – we have a culture of positive self development – that we have to improve our lives by investing, acquiring assets, educate our kids, – which probably informs a widespread government expectation that we will soon have to get back to work, and forget the politics.
But, on a national level, certain industries have taken a hit from which they are unlikely to recover this year (2008) – insurance, transportation, tourism, real estate & mortgages, banking sector, banking, real estate, the agricultural sector, infrastructure, insurance, and thousands of small businesses (SME'),
We can forget about 8% or 10% economic growth for 2008 and maybe the next two years as well. As banks, we tried to persuade companies (local and foreign) to commit to business decisions from October onwards – without much success; now their wait-and-see caution appears to have been the right thing, and they will probably take another six months to recommit. Also, the demand for credit to rebuild, both from the whichever 'government' and the private sector is likely to dominate the budget of June 2008.
There's been a dead cat bounce, with some companies making a little money against the odds – Uchumi supermarkets, Safaricom, Taxi's, private security companies, hotels (until they run out of supplies), and soon building & repair companies, but they will be the minority.
we need solutions
But don't look for answers here:
– Police: They are tired and overworked. They have been on high alert since November tackling electioneering and extra security. They have done their best given the circumstances.
– Violence: does not solve anything
– international and diplomats – they seem to think political leaders have all the answers.
– Politicians: Everyone is calling on political leaders (Raila, PNU, ODM but especially Kibaki) to have dialog as a way to peace. While, as far as I know, no national leader has orchestrated any violence around the country, they are old hands (three years of constitutional war – remember 'consensus building') at sitting at the negotiating table and not resolving issues. They can wear out Nobel Prize winners and the international community with their bickering.
– The USA: As the WSJ story on the violence in Kenya shows, they have a history of siding with sitting regimes after unpopular elections e.g. Ethiopia, Nigeria
– The Kenyan court system
The answer is citizens themselves
Every day this week, I have heard & seen touching stories like these;
– Neighbors talking to one another about maintaining their many years of peace
– Neighbors setting up watch out groups and liaising with the local police
– Neighbors taking in and sheltering friends, relative and strangers
– Police officers talking down residents this morning who had hoped to march to Uhuru Park.
– Local leaders and MP's talking to their constituents – preaching non violence.
– Neighbors standing together and ignoring the sparks from outsiders
I'd like to see the media highlight more of these, but such peaceful efforts may only put such proponents at risk. However today, all th media houses appear to have come out with a joint peace campaign message.
And whatever the outcome from the peace parley's over the next month; I'll make money with a Kibaki win, but I feel that the country needs Raila to lead and tackle some of the serious imbalances in this country. If Kenyans were rated among the most optimistic people in the world in 2003, how do we feel in 2008?
other losers & gains
Losers
– Kenyans; It was sad to watch the pre-elections stories on Al Jazeera and CNN breaking the election number down by 'big', 'populous' tribes of leaders, but the vote outcome showed that we still vote against tribal lines
– Kenya: The image of the country is shot. There are the huge land cruisers racing around Nairobi displaying their MEDIA and RED CROSS stickers and flags that grant immunity and safe passage in trouble spots. And will the Diaspora continue to invest in the country?
– President Kibaki whose 50 year political legacy is at stake
– Former president Moi; his sons lost and what were those ODM Win violence threats about?
– Majimbo proponents.
– The ECK and especially its Chairman whose popularity stemmed from the fact that Kenyans expected him as a righteous, religious man to do the right thing.
– Free secondary education promised by all the parties will likely be shelved, as will many other promises made in November/December.
– Nyerians who are the butt of jokes by their regional neighbors for their incompetence at 'vote tallying' (this could either be funny or not – I apologize if you're offended)
Winners
– Kenya voters who turned out in record numbers, despite overwhelming difficulties, many voting for the first time. Unfortunately many of them have been stranded in the rural areas where they went to vote & enjoy Christmas.
– Safaricom and Celtel until their distribution networks dried up: – I thought Safaricom would be shut down, but it is so essential for communications (police use cell phones more than their call radios) and has kept families in touch. People have used M-Pesa and Mama Mikes to send money to stranded relatives even from abroad.
– NGO's and civil society. They had become largely irrelevant under the NARC administration, but have become energized by the post-election outcome.
– Former president Moi: the sad events of the past week could have happened in 2003, but he took the mud and the humiliating defeat, and walked away (until recently) – allowing the pent-up emotion in the country to become euphoria and optimism.