Equity Bank held an Extraordinary general meeting on Friday, December 21, 2007 in the KICC Amphitheatre. The meeting started 45 minutes late as shareholders were treated to almost a whole CD of the greatest hits of Boney M. The hall never filled up, and it started at about 10:40 a.m.
The Bank Chairman Mr. Peter Munga invited a Chaplain to say a prayer, after which he introduced members of the board of the Bank and legal and transaction advisors (Kaplan & Stratton, PricewaterhouseCoopers, Ernst & Young) in attendance. The Managing Director, Dr. James Mwangi then introduced several of the top managers of the Bank who were present.
The Company Secretary then confirmed that there was a quorum and proceeded to read the notice for the meeting. However, after completing the first of three resolutions (took about two minutes), the Chairman interrupted her and asked if, in the interest of time, all shareholders had read and were aware of the resolutions. We confirmed – and the meeting proceeded on without a full reading.
The MD then gave a brief talk about the proposal to sell 25% of the Bank to Helios Partners. He said Equity had been growing at about 100% a year and now wished to expand into other countries in Africa. They had sought and now found the right partner to finance that growth and with networks & expertise to manage the new ventures. Helios would get two director seats and may add more funds if the need arose.
The 11 billion capital injection from Helios would also ensure compliance with prudential ratios, increase lending capacity, and allow further necessary investment in IT.
Sweetener for shareholders: the MD told shareholders, that though their individual stakes would be diluted by 25%, the net asset value of their shares would increase from 11.9 shillings per share to 39.4 shillings per share. And though shares were diluted, Helios would not take part in the 2007 dividend.
Shareholders questions
There's a gentleman called Mr. Alois Chami who owns shares in just about every listed company in the country and is a fixture at all AGM's – known to all company chairman. Normally he's a bit of a windbag, but today he acquitted himself with his frank questions.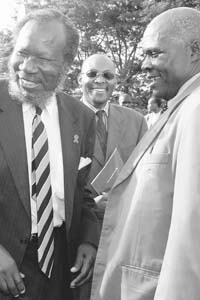 Chami at a previous AGM
Before answering him, the MD complemented Chami as one of the few shareholders who took up the company invitation to inspect the transaction documents at the headquarters
Chami asked;
Who was exempt, all shareholders or Helios? – as the Governor of the Central Bank and the Minister of Finance gave differing interpretations.  MD answered – Only Helios is exempted. Helios is a partnership fund investing in the bank, while Kenyan law only recognizes individuals or companies as investors. Also said that existing directors continued to be bound by their non-sale agreement till July 2008.
What does the exemption mean? Kaplan lady lawyer confirmed that applied only to Helios partnership and would not venture further
No other bank has that exemption, why? Others may look at the exemption and see a political angle, but it was just a business decision made by the Central Bank
Does management have the capacity to utilize capital? Management had the competence, and the bank has been growing at 100%
Why invest in housing finance (Equity has bought 25%), a sinking ship? Why not Equity's own mortgage company? Equity saw housing finance as a turnaround opportunity, bought at 18, now at 40 shillings a share and performance will be better as together they will provide affordable housing finance solutions to Kenyans.
Shareholders vote
Since Mr. Chami was the only shareholder with questions, the resolutions were put to the floor and were passed in quick succession, with the first two being straightforward to:
(1) Increase share capital
(2) Allot new shares to Helios
(3) The third amended articles of association of the bank; in addition to the usual modernization resolutions e.g. allowing teleconferencing, also had some unusual ones like if a shareholder is non-responsive for six years, the company may sell those shares and keep the proceeds, made it more difficult for directors to amend dividend policy, business plan or budget (all but one must approve any change)
Edit – One of the Helios managing directors, Mr Babatunde Soyoye, was invited to the podium and he briefly spoke about the new pan-African partnership that the Bank would venture into next.
The Chairman then invited director Dr. Julius Kipngetich (also head of Kenya Wildlife Services) to give a vote of thanks. He thanked the shareholders and assured them that "stick with Equity, and we will make you rich", customers (now heading towards 2 million customers by January) suppliers (for world-class service) Board of directors (best in the country) management staff (ordinary people doing extraordinary things) transaction advisers, and media (for good coverage even as Equity remained misunderstood)
Finally, the Chairman thanked shareholders, saying they were now richer than when they came in.
Goodies: tea and snacks outside, while all shareholders got a toe bag with Bank brochures and souvenirs book