Got tagged by Mwari which has happened before and I have given some answers.
I am still preoccupied by the Kenya Airways plane crash so I have decided to find some aviation related answers for the tag. I have been a long time shareholder of the airline till this January. When I started actively buying shares, I bought several KQ at 11 and 12 shillings and later sold them at 24/=. I thought they were undervalued at 11, was happy when they doubled and I sold, but I doubt if anyone could have foreseen the bull market that sent KQ shares on to 140 shillings in 2006 (see share regrets).
1. First thing is how much I love flying. As I said when previously tagged, put me on a plane anytime.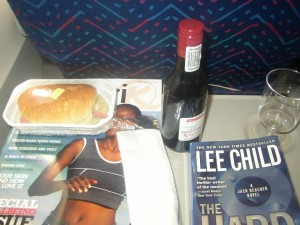 Lunch date I'd accept any day
2. My first Kenya Airways (KQ) flight I recall was about a week after the 1982 coup attempt. The family decided that a holiday was in order and so we took a KQ flight to Mombasa. It was a Fokker Friendship (F27) aircraft and in those days the route included a stopover in Malindi, before a short hop down the coastline, passing over hotels and so many tempting swimming pools on the way to Mombasa.
3. Next flight I recall was maybe in 1985 or 1986 – another Mombasa trip. It was supposed to depart Nairobi around mid-day, but the flight was delayed for mechanical, or some other reason (KQ was known to have such flight delays in those days). So we were delayed for about 5 hours till the next available aircraft was ready and wow it was a (then) brand new Airbus 310. I was so impressed, the plane was huge and quiet and I sat over the wing and marvelled at the flap arrangements. (On another previous flight on an older 707, I had been shocked to see some greasy green sponge rags inside the engines as the plane braked on landing). Anyway, at the end of the A310 flight I was still in awe that I got to the terminal and realized that I still had my plastic soda cup (with the KQ logo on it) – which "young me" tried to give back to some of the airport people.
4. I once worked as an airport security guard/Marshall – you know checking for bombs, guns etc. It was a summer job during university and before 9/11, airport security was something not taken seriously – hijackings were a non-issue and no one (except some evil genius) could have foreseen endings to routine flights as we saw that day.
Anyway, airlines never took security seriously and outsourced it to the cheapest company possible – as you could see by the way the guards were treated. Almost any warm body who could pass a drug test got the job and on the first day, you got a uniform and were put straight on the job in training (but on 'probation' for a week – until your drug test results came through). It was the lowest paying job in the airport (even less than McDonald's workers), but for someone who loved being around planes, it was a great opportunity.
5. I am mystified by the so-called carbon credits, air miles, and plant trees for carbon emissions etc. movements. At the airport I worked at, about 90 – 95%% of the flights at the airport were small (737 types) aircraft flying local routes – as is probably the case at most European and American airports. So out of the hundreds of flights coming into a European airport on any given day, can even more than 1% of them be from Africa? So how do our vegetables and flowers get blamed / and taxed for harming the environment?
6. The worst flight I ever took was in a (4-seat) small plane from the coast to Nairobi (Wilson Airport). We flew through a thunderstorm and the plane was tossed about like you would not believe – I thought I'd get sick and wished the flight would be over, or even turn round back to the coast. Also in the same way you're told to never go to a restaurant kitchen, sitting with a pilot of a small plane can scare anyone new to flying as you see the pure mechanics of flight. (The co-pilot seat was empty and observing the dials, rudder pedals and joystick move around was scary to watch as you wondered how this could be happening a few thousand feet up in the air) Such turbulence. is something I have never experienced on bigger planes such as a 737. There are dozens of flights in the air as you read this navigating through rain or snowstorms or other bad weather safely. If an airport is unsafe (runway flooded or snowed), it is shut down and flights are forbidden to take off or land. But if it's open to fly, flights go on as usual. Pilots are trained for this and maybe the KQ investigation will prove me right that flying through a thunderstorm – while being uncomfortable for passengers, is not a dangerous activity.
7. Oh and the corporate blog opportunity I sought last year was with Kenya Airways. My pitch was not successful, but I must commend the way they have handled the aftermath of the accident so far. They are dealing with many anguished families, harassed airport official, bureaucrats, political busybodies, snake oil salesmen(asking if the West African route is jinxed), safety engineers, shareholders, people skeptical of flying in Africa, and the flying public and each group requires a carefully tailored message.
That's the end of the tag, as most of the people I'd want to tag have already answered, All I ask is that they keep flying and enjoy the ride.