2006 was a great year thanks to blogging.
Looking back
High point: the great people I met through the KBW buffet park meet ups
High point # 2: getting invited to the digital citizen indaba in South Africa – my first real visit to another African country and I got an idea of what to expect at the 2010 World Cup.
Low point: getting booted from adsense by Google – which happened just as I was getting used to having blogging provide some supplemental income through advertising. Thanks to Stocktrends and Alex Gichira (Ed. Business Post) for their support of my efforts since then.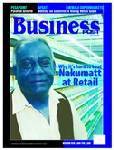 Traffic
Used statcounter (& still do) but it doesn't provide much historical data so I also signed up with Google analytics in September.
43% visitors of visits are from within Nairobi – which is surprising since the target audience is Kenyans in the diaspora and most of what I write should be apparent to people here in Nairobi. Still, it's encouraging.
Fewest visits on Sundays – means most of you read in the office!
Top posts
Kenya exam results online (highest traffic [4X normal] was recorded on 28 December – not to read my banking summary for the year but to locate KCPE exams results online!)
No drugs at NSE
Where to buy shares
Money transfer within Kenya
Bank rankings June 2006
my faves  in terms of the comments and feedback I received
Safaricom success
No apologies
Idea exchange & barter trade
Training Kenyans for outsourcing
Where to buy shares (part ii) redux
Changes in 2007
Fewer posts: the amount of information posted by new bloggers and sites – such as nairobist, stockskenya, pesa tu, riba capital, cold tusker (now investing in Africa), hisagal, odegle nyang and others (see my blogroll) is a blessing for everyone. For me, it's less to do, less news to bring up, and I can focus on more research and longer posts.
More techie; I owe so much to blogging so I must improve by learning more tech stuff and experimenting with more tools. I hope to have more photo posts this year and try out new templates (many people don't like the black background). However, bankelele is not eligible for blogger beta as it may be too large to migrate.
Kioskelele: 2007 will be the year to take the plunge into the informal sector / entrepreneurship by starting a kiosk/shop/SME and continue to diversify my income. These opportunities are not there forever and we have to take them on otherwise we will regret forever why we didn't follow our dreams. Still looking for the right location in the city that is accessible and suitable.
More savings: So far so good but a book I read recently (the "automatic millionaire") said saving should happen automatically – i.e. money grows when you can't see it/have no chance to intercept it & use the money. Only problem is that standing orders at Kenyan banks are so expensive – and it's wrong to have 5 – 10% of money intended for savings be eaten up by bank charges. I found a bank which was much cheaper, but they sometimes forget to remit the money into the account!
Quit share trading: Not quite, but there will be less trading of shares this year and focus will remain on IPO's and new issues like Safaricom. It's not that the brokers are bad, but there are too many shareholders (since Kengen, Scangroup, and Eveready) who occupy brokers' offices and phone lines from 9 a.m. to 3 p.m. It is too much hassle going there, trying to call in orders – that sometimes I think it may be better to cash in my gains and reinvest them in an Old Mutual fund or new investment club. (The folks at the Kenya capital investment group have posted their investment club constitution which is a good guide for those wishing to start a club)
Fun fact:
From an article in the Economist on the etiquette of bribery.
Q: "What's the difference between a gift and a bribe?"
A: "Any gift, must be consumable in a single day – so a bottle of wine is acceptable, a case of wine is not."
Opportunities
Head of keg business at East African breweries. Apply to hr.recruitment@eabl.com by 6/1
ICDCI Investment manager, risk manager, business analyst, investment analyst, risk analyst. Details at their site and deadline for applications to jobs@icdci.co.ke is 19/1
Procurement adviser – public sector & development at KPMG. Apply to esd@kpmg.co.ke by 12/1
Commissioner of domestic tax revenue KRA. Apply through KPMG at esd@kpmg.co.ke by 7/1
Ministry of Foreign Affairs – Principal Counselors (4), First Counselor (11), Second Counselors (22), First Secretary (28) and Third Secretary Cadet (64) Posts. Details and deadline is 12/1
Head, Communications Unit at World Agroforestry Centre (ICRAF) . Details and deadline for applications to icrafhru@cgiar.org is 19/1