Last month I caught a glimpse of Mt Kenya all the way from Nairobi when it was briefly visible for an hour in the morning. Then I got a chance to visit the area and see the whole thing from up close, I thought.
The drive:  Nanyuki is marked as being about 190km from Nairobi. The drive up is pleasant except for some bad stretches of road. The dual carriageway from Nairobi to Thika turnoff is quite bad, indicating the volume/level of commuter traffic between the towns. It's much better off till the end of the dual carriageway and on to Makuyu, passing Kakuzi, and the Tana River power station. There's a "no trespassing" sign there which is a shame because Kengen could make some money from visitors to its power sites like Turkwell, Olkaria, and along the Tana River.
Drive non stop through Sagana, Karatina, and finally the turnoff before Nyeri town and off through Kiganjo which has the famous police training school where the climate starts getting cooler. The road is smooth and fast now but like many roads in western Kenya, it is a good thing to slow down when you see a town because there are unmarked bumps – for residents demand that you admire their town and buy their vegetable or animal produce when you slow down.
Naro Moru is the first of the six police roadblocks we have passed to stop us, but only for a moment. When I last made this trip in 2002 there were about 20 roadblocks between Nairobi and Nanyuki. Next trip I will take a lorry and see what the cops on this route ask for. Anytime you drive a pick up (even empty) you are stopped and can be asked anything for anything from "give me a cigarette," to "why are you not wearing a seatbelt?" No time to stop for fish today though.
Get to Nanyuki town and look for a place to stay. When you have Safari Club money, you can stay at the Mt. Kenya Safari Club – but this is a budget trip so you have to stay at budget places.
Travel lesson learnt;– When you get to a new town, esp. one with that gets many tourists, find out where the tour van drivers stay. These guys always know where the best budget packages are with clean rooms, hot water, safe parking, and good food.
Nanyuki had two hotels that meet their definition – Ibis Hotel and Simba Lodge and they were just about right. But the hotels can get full, if there are many vans of tourists in town, so get a booking done before you go looking for dinner.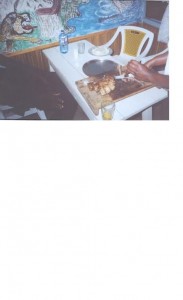 Camp George massacre
The place to eat nyama is a small banda called Camp George about a kilometre from the Sportsman Arms hotel along a twisty route. It looks like Nerkwo but the meat is to die for. Order meat, and unlike Buffet Park, you'll get what you ordered and in record time.
One problem with eating nyama choma is one never knows when to stop. If you eat a burger, it gets finished, you wipe your mouth and say that was a good burger. But with nyama choma, you eat until you're full and there's only fat and bones left on the table. Afterwards, you feel like a lion who has no interest in gazelles grazing nearby as your belly is too full.
The Watchman at the hotel assures that you'll see the mountain if you wake up at six. It's much colder now after 8 pm but you don't feel it, because you're full of doba and Tusker, so you drink lots of water and go to sleep.
Up at six up and sure enough there's the peak of the mountain visible in the morning.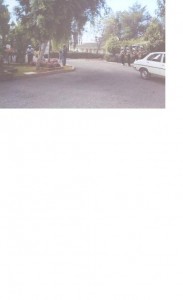 music video shoot
Eat breakfast, watch a music video being shot outside hotel, and go off to cyber café. I have been to some towns where the internet is a rare thing – some cybers only open for a few hours and remain closed on Sunday and Holidays. They are also very expensive. But right in Nanyuki there's the Marina, a pleasant roof top bar & restaurant that has a very fast cyber, with new machines and costs 1/= per minute.
By the time, I leave the cyber face, Houdini has performed and Mt. Kenya has once again disappeared behind the clouds and weather patterns it creates.
The journey continues – and maybe the leeward (dry) other side of the mountain will have a clearer view.
Other side: On to Meru, which is 80km away on the other side of the mountain. The road is under repair and the weather remains cool, with low clouds obscuring the mountain.
Pass thought Meru town which is a large and busy town. Do a bit of business and get moving – as it is almost noon and Nairobi is almost 300km away.
The road from Meru, Chogoria, Chuka and into Embu is quite tiring. It is very twisty, which means you can't sustain speeds. Quite a bit of it is under repair. There are roads crews ripping up patches of it and laying new carpet. There are also groups of boys who scoop heaps of soil onto the road and demand a token from passing motorists.
The scenery is beautiful with forests, farmland and more banana trees than I have ever seen do the landscape. Still no sign of the mountain, but its presence is felt as we pass dozens of bridges, each full of roaring brown waters from the mountain flowing to the lowlands. I have no idea what a miraa bush looks like, which is a major cash crop in the area for export to Somalia.
Get to Embu, tired, sweaty and hungry. We make the mistake of stopping to eat at a sleepy restaurant. The Waitress literally had her head on the table and no customers in sight. When we asked her where to wash hands, she directed us to the Shell petrol station next door. Coming out of the bathroom we noticed several cars parked and the smell of fresh food and we decided to eat at Shell's Kirimari restaurant.
Another travel lesson learnt – when in a new town, (for the first time) eat at a restaurant at a petrol station on the highway. There are no standard restaurants like McDonald's, but these highway points are frequented by many travellers (even the police were having a late lunch there) and they have standard menu – in this case, rice and beef stew made a great lunch that made us all feel better and energized.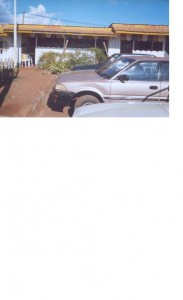 saved by Kirimari lunch
From Embu on down to Mwea the climate gets warmer as we descend now. Stop in Mwea to buy the obligatory sack of rice. It's high-quality grain that's only available in Nairobi at much higher prices. Next time I'm here, I may take a detour to stay at Masinga Dam. After Mwea, it's back to the main road and Nairobi – and still no sign of the mountain, despite going around it in a day.
Where in Kenya?