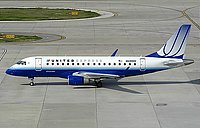 As expected Kenya Airways will get some regional jets, the Embraer 170 which can be expected to serve Kisumu (once fixed) and other regional routes. The Kisumu route showed the preference passengers have for jets versus turbo- props.
An earlier post & debate
More investment news
– Diamond Trust rights are trading on the NSE
– Stanbic Uganda IPO open to Kenyans
– Mumias opens this month
– Is the Family Finance capital raising legal? They say yes, other banks say no, CMA says nothing
Housekeeping
+ve In the last year, Hotmail (which I was about to abandon) has increased mailbox sizes from 2MB to 25 MB and now to 1 GB.
Anonymous comments are allowed again, but are likely to be ignored.
-ve my hotmail address has come to the attention of some of our West African brothers such as Ibrahim, Isaaic More, Idris Musa, Adamu Abubakar, Bala Mohammed, Zuma Amed, Ken Ono, Kaburo Abu, George Watara who have all sent me multi-million-dollar business proposals of which I am yet to decide on.