– The communications company identified earlier has stopped accepting new investors or deposits and has told existing investors that their contracts will not be renewed once they expire. (I.e. receive full payment)
– Also, an e-mail circulating, purporting to be from Equity Bank, names some of these companies and warns other banks and their customers to be on the lookout for these schemes.
To: undisclosed-recipients
Subject: Message from Central Bank
It has come to the knowledge of the Central bank (and other commercial banks) that some fraudsters have opened accounts in the guise of Merry Go Rounds. Be advised that these are in fact pyramid schemes. A pyramid scheme is a fraudulent system of making money which requires an endless stream of recruits for success.
The fraudsters have already mobilized a sizeable number of people who have made colossal sums of deposits. The security machinery has managed to penetrate the cells and is making good progress in this regard. In some incidents, they masquerade as working with the knowledge of the bank.
We make it very clear that the bank is not involved in any way with its operations. This is the more reason why it has been decided that all these accounts cease receiving any deposits from the public or allow any withdrawal either from the counter or from the ATMs. Any member of the public wishing to deposit or withdrawal should be advised accordingly.
Refer any enquiries to Major Mutua and Security Department in Head Office.
The following accounts have been identified to be receiving suspicious deposits from the public on a daily basis:-
———————————————————————————-
And many others not yet fully identified.
Please circulate this mail to all your friends to avoid more innocent Kenyans getting into the trap.
New NSE listing?
The Daily Nation reports that a new company will soon list on the NSE via a private placement. Midlands Limited will sell 20 million shares to raise 250 million shillings to put up cold storage facility. Suntra has valued the shares of the agro-processing, Nynadarua-based company, which currently has 3,000 shareholders at 28 shillings and they will be listed at 10.50 each. Related piece.
Sports
– Kenya is bidding to host the 2009 sevens rugby world cup. The organisers, who are up against seven other countries, are deriding the lack of government support. Good luck!
– The 2006 Nairobi Marathon takes place in 12 days. However, unlike in previous years where the different races were spread out over different parts of the city from Lenana school, to Nairobi School, to Mombasa Road, this year's races will center around the Nyayo Stadium area.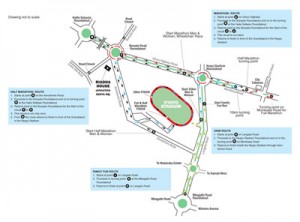 Previous marathons have inconvenienced some travellers, churchgoers, and shoppers, on Sunday morning. However, those interested in watching this prestigious international sporting event will have to go to the race area.
Safaricom security
Safaricom to enhance its anti-fraud systems.