I have received two requests to mention here and I have done so because I have some requests of my own as well.
Tujuane
'Tujuane' (defn: a Swahili word meaning 'let us know each other') is an exclusive free online social network, which is open to 25 – 50 year old professionals and allows its members to connect, network and interact more effectively with like-minded individuals who share same professional, economic and social interests. Members get a free networking-oriented profile page and can send messages to other members. They can also use our browse function to find members related to their industry, interests, favourite NSE listed stocks, affiliations or professional certifications. Join here.
Africa Investor Awards
The 2006 Africa Investor Awards which recognise and reward excellence by business, government and multilateral organisations operating in Africa across a wide range of disciplines will be held at the Safari Park Hotel in Nairobi on November 9 and Kenyan companies are encouraged to enter one of the sixteen categories. (Entries close September 15)
My requests
Things am looking for;
– A stall/ exhibition area, well-lit, and preferably on the ground floor of nice building in the CBD that is available at a reasonable rent
– A boarding school for girls that is affordable (about Kshs. 20,000) for a year, preferably close to Nairobi.
Diversification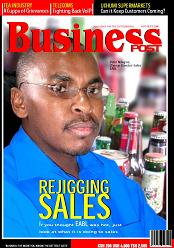 Business Post is a very nice bi-monthly magazine on investment and business in Kenya. I was not aware of if until their editor approached me to do an article in the June issue, and a second bankelele article appears in the August/September issue which should be published at the end of the month. (Unfortunately the magazine has no website,but their e-mail is info@businesspost.co.ke)
NSE vs. Real Estate
After learning about Business Post, I located several of their past magazines and one of my favourite articles was from their February 2006 issue which compared gains made on the stock exchange versus those from real estate. It answers an oft-asked/commented question on if one can get rich off the stock exchange and which I maintain is possible by playing for the long term and continuously re-investing.
The NSE provides a passive way to earn some money from savings and gives comfort to those of us not in a position to invest in real estate now, which is said to be the best investment vehicles.
Business Post compared investing 100,000 in certain shares in 1995, versus some real estate transactions at the same time and their value/return if shares or houses/land were sold in February 2006:
Shares
Company share price (1995)| Amount invested |Dividend income |Share sale income | Return
KQ 9.5 | 95,000 | 55,575 | 169,000 | 136.4%
Nation 24.5 | 245,000 | 819,969 | 7,650,000 | 3,357.1%
Barclays 81 | 810,000 | 1,257,557 | 3,839,616 | 529.3%
EABL 42.5 | 425,000 | 830,490 | 6,408,000 | 1,703.2%
KCB 29 | 290,000 | 164,663 | 793,313.5 | 230.3%
Real Estate
– Buru 4br house on 1/4 acre, Bought for 1.85m, earned rental income of 1.6 to 1.6m, sold for 3.0 – 5.0m yielding a return of 138% – 256%
– Runda 4br house on 1/4 acre bought for 8.5 to 10m, earned rental income of 5.3 to 5.9m, sold for 12 – 16m, yielding a return of 103% – 119%
– 1/2 acre vacant Runda plot bought for 1.5 to 2.5m and sold for 2.6 – 4m, yielding 60% – 73%
– 1,000 acres in Rift Valley bought for 63m earned an income of 54m and sold for 100m yielding 144%.
Insider Trading
A nice NY Times article on (merger related) insider trading of shares which point out that
– Many investors are troubled by what they now see as rampant insider trading, saying it fosters the perception that insiders can profit in the markets at the expense of outsiders.
– It is undeniable that brokerage firms, with their varied businesses all under one roof, remain particularly well positioned to capitalize on inside information. Not only do these firms advise buyers and sellers in mergers, giving them immense access, they also have proprietary trading desks that invest the firm's money in stocks and other securities, money management units that invest for clients and trading desks that profit mightily by executing trades for hedge funds.
– Spotting abnormal trading is far simpler than bringing a successful insider-trading prosecution.
Several NSE companies have enjoyed surges without or before any material information being released.