Bank news
SMS Banking: Paramount Bank is the latest to introduce SMS Banking in conjunction with Safaricom. Each SMS received e.g. for mini-statements, withdrawal/deposit notifications, balance queries and Forex rates will result in a 10 shillings debit to an account. This compares with Co-op Bank which charges 15/= to 30/= for similar services via mobile phone.
Top dog: Citibank Kenya gets a new MD
Un-doing Githongo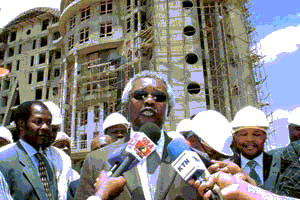 The Kenya Pipeline Company has resumed construction of its headquarters in Embakasi which was stopped by then-PS John Githongo. A move to new building, once complete, should save the company about 50 million a year which it pays to the National Bank for renting one quarter of its headquarters in downtown Nairobi.
Other news
BAT: In 2005, British American tobacco turnover increased from 9.87b to 11.2 billion shillings and after tax profit increased from 1.21b to 1.38b. The company will pay a final dividend of 4.5 shillings after the AGM on 25 April to shareholders as at 20 March. Total dividend for the year will be 12.5 out of EPS of 13.82 shillings for the year. Like EABL and Safaricom who probably feel some guilt over their high annual profits, BAT reminded the public that they paid 5.3 billion shillings to the government through excise, VAT and income taxes last year.
Kengen has cancelled a controversial plan to reserve IPO shares in the company for a select group of investors.
The NSSF is still saddled with several prime plots a year after they first tried to sell them. These include a 4.7 acre parking lot between GPO & Grand Regency, .9 & 1.3 acre plots on State House, 2 acres opp. Fairview Hotel and 63 beach-front acres in Kikambala Mombasa, among others. They appear to have sold their 50 acres near Karen, 20 acres on Langata Road and 2.5 acres on Hospital Rd in Upper Hill.
Opportunities
Develop web sites for the Government of Kenya (tender 3/2005/06 ) including the official government web site and standard sites for each of the 33 government ministries. Apply to the Secretary to the Cabinet and Head of Public Service, P O Box 62345-00200 Nairobi by March 20. More info can be obtained from the ICT secretary at info@kenya.go.ke and the application process also includes a non-refundable fee of 10,000 shillings.
Import from Japan: The Government of Japan is funding an import substitution program to businessmen and companies through the Government of Kenya Monday. Apply by March 13 to crownagents@ke.crownagents.com.
Jobs
– AATF administration & finance manager at the Africa-agricultural technology foundation. Apply at aatf@aatf-africa.org by Feb 24
– Danida Kenya senior private sector development adviser. Apply here y Feb 23.
– IFC Expert consultants at the Africa business environment rapid response task force. Apply at ifc.org/careers by March 3.
Politics
Political Reform*1: Planning Permanent Secretary, Dr. Edward Sambili, has called for the Kenya Anti-Corruption Commission to probe allegations of misuse of constituency development funds (CDF).
Political Reform*2 From South Africa – Contained in the ANC's election manifesto is a code of conduct for their municipal candidates that Kenyan MP's should be asked to swear to include;
– I will fight against corruption in any guise or form.
– I will listen to the views of the community and hold a public meeting with all community members to report back on my work, at least four times a year.
– I will live in the community that has elected me.