air
Kenya Airways has added a once a week 777 direct flight from Mombasa to London. There are several charter airlines that operate flights on this route – serving the tourism boom at the Coast.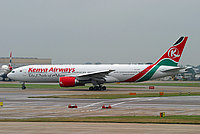 East African has also added flights to Malindi
Agriculture
Sasini slump: Sasini reported a loss of 387 million shillings for the year, down from a profit of 771m the year before. Operations generated only 12 million shillings which was a steep drop from 209m in 2004. The company blamed the poor performance on over supply of tea in world markets. Sasini also entered the horticulture business during the year and will maintain a focus on the premium tea sector where demand is high.
Banking
NIC Bank has extended its banking hours and will now be open from 9 a.m. to 4 p.m. on Saturdays.
Communications
New communication Minister Mutahi Kagwe is an advocate of using the government's shareholding in Safaricom to restructure Telkom Kenya. In an October interview in the Financial Post, he says Telkom is inefficiently run and he believes it can achieve efficiency and connectivity levels similar to India and Mauritius. Hopefully he can restore confidence to the sector after two years of Tuju's confusion. Surprisingly dropped in the cabinet re-shuffle was Permanent Secretary Rege who has been an active player in the satellite and mobile communications sectors.
Energy
The National Oil Corporation pulled out of the running to to buy BP Oil's Kenya assets.
Housing
Kenya Commercial Bank staff pension fund will construct 252 houses along old airport road in Embakasi.
Publishing
Cosmopolitan magazine will discontinue its Kenyan issue and resume distributing the South African one locally.
Rail
The concessioning of Kenya Railways may be delayed after pensioners of the corporation filed a suit to stop the deal until their interests are secured.