Up-coming housing developments
South C: 440 4 bedroom houses will be constructed in South C, near the Carnivore Restaurant.
Mlolongo: 632 maisonettes will be constructed at mlolongo which is south of Jomo Kenyatta airport, but is technically in Mavoko county, Athi River.
My morning drive from home to the office can vary from about 5 minutes to 45 depending on how soon I hit the road. The cut-off time to enable a quick trip used to be about 7:15 a.m., but because of the rapid expansion of apartments and increase in both vehicle & passenger traffic over the last two years in the area, it has moved up to about 7:00 a.m.
It may be cheaper in rent terms for me to move to a place like South C or even Mlolongo, but I find them to be too far from the city and I hate sitting in traffic and get easily frustrated sitting in a hot car that's not moving. Also it's a nice green neighbourhood that's relatively safe and so close to town that I can walk sometimes.
While traffic police marshals sometime help speed up the flow of traffic, but I find that the biggest cause of traffic jams is school transportation. When schools close in mid-November, traffic jams will essentially disappear and commuting will be a more relaxed affair.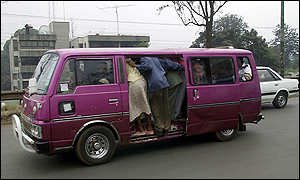 For now it's much more convenient to take a matatu and let someone else do the driving & fighting traffic while I sit back and read a novel or newspaper during the twenty minute journey.
uchumi turnaround
I can't wait for Uchumi's turnaround to take effect and for teh company to renew links with key suppliers. It's a bit frustrating shopping at their stores because they lack some essential brand names or items e.g. they sell shoe polish, but no brushes. They will sell shoe polish, but have no shoe brushes and staff will say, "we haven't restocked."
Realigning Portfolios
Meanwhile the East African reports that four major Uchumi investors – ICEA, Heritage AII, Old Mutual and Co-op Trust – did not buy any Uchumi shares in the recent rights issue. They are setting aside funds for the Kengen IPO set for February 2006.
Elsewhere, the National Social Security Fund has sold shares in order to "give character to their portfolio."
CBK Warning
Once again Kenyans are being warned about companies masquerading as banks or lenders. This time its the Central Bank of Kenya stating that using the words "finance" or "bank" or derivative such as "micro-finance" in company's name is restricted to organizations it regulates and warns any other company to cease using such names or taking deposits from the public by January 31, 2006.
EABS Bank
EABS Bank Limited is officially bank effective October 31, following the approval of the acquisition of all assets, liabilities, agreements, and accounts of East African Building Society by the former Akiba Bank (now renamed EABS Bank)
New investment adviser
Franklin management consultants [e mail: franklin@wananchi.com] have been licensed by the CMA as an investment adviser and will specialise in investment products and policies for individuals trusts foundations and other businesses. They join othe investment advisers including Veritas, B.A. Cititrust, Covenant International, Dry Associates Limited, Jani, Loita and Zimele.
Blind vices
I enjoy reading about blind items at E! so here's a local version:
– Which former minister and current NO campaigner just made 130 million shillings from selling 130 acres of land to a church for the construction of a religious school?
– Which current minister is surprisingly silent on the referendum issue owing to gentle pressure being applied by the government, who are not paying him rent on police houses he owns?
– Which well proclaimed "saved" and religious leader drops the act once in home town and parties up a storm?
– Other "Kenyans" behaving badly