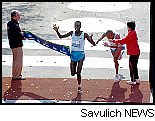 Paul Tergat of Kenya breaks the tape just ahead of South Africa's Hendrick Ramaala, winning the closest ever New York City Marathon
But Kenyan sports stars don't get respect in Kenya, when pitted against English Soccer. The live showing of the New York marathon unfortunately coincided with the broadcast of two English premiership games. At a local Nairobi bar, we were able to watch the finish of the women's marathon, which coincided with half time of the Manchester United/Chelsea game, but the bar TV went back to the second half of the soccer match, meaning we were not able to watch the thrilling conclusion of the men's marathon.
Christmas Holiday
I visited the tourism expo at Sarit Center to find a Christmas holiday package at the coast, and I also learned that:
– all most Mombasa hotels are fully booked for the Christmas – New Year week.
– High season begins just after December 20, and hotel charges will be about double what they usually are, until April 2006.
– Packages are still available up till mid-December such as:
(i) Indian Ocean Beach Club: 2 nights at half board, including return flight (Kenya Airways: Nairobi – Mombasa – Nairobi) for Kshs. 16,680 per person ($230) valid up to December 20
(ii) Turtle Bay Beach Club: weekend package i.e. 2/12 – 4/12 or 9/12 – 11/12 including return flight (Nairobi – Malindi – Nairobi on Air Kenya) for Kshs. 18,550 ($255)
Other accommodation offers which impressed me were from Club Le Soleil and Kenya Bay Beach Hotel. I gave emphasis was to air packages because the road to Mombasa (I'm told) continues to be a motoring nightmare (and national shame) – someone told me he recently drove from Nairobi to Mombasa in a reasonable 7 hours (but that the final 50 km stretch from Mariakani to Mombasa took up two hours because the road was so bad).
Anyway, I don't feel like driving, and I am comfortable getting around Mombasa by matatu, so my focus was on air travel to the Coast, not by car.
More debit cards
Another bank that has added debit cards is National Bank of Kenya (NBK) which launched a visa-electron branded card at the end of October. This was a week before KCB and Southern Credit launched theirs.
Land – uncertain returns:
Landowners such as the National Social Security Fund continue to have problems disposing of prime parcels of land partly due to the uncertainty over land titles, a government notice to recall undeveloped land, and the huge cost of developing commercial land within the city e.g. to put up a modern building in the city with excellent parking, amenities and security would cost over 1 billion shillings today.
Since February when the NSSF first tried to sell several prime undeveloped plots they have only sold a few including 50 acres near Karen and 2.5 acres in Upper Hill, while the rest were re-advertised last week.
Hotel wars
There was a mishap with a Kenya Airways international flight over the weekend, and the plane returned to Nairobi for a check. Once again, the airline checked passengers into the new Panari hotel, near the airport, and not at the traditional airline hotels in downtown Nairobi.
Block shares
After CDC (UK) sold off 5% of the Housing Finance, another investor (likely to be NSSF) has put up 2.75 million shares of KPLC – aiming to raise over 430 million shillings from the Nairobi Stock Exchange.